Download iTunes for windows pc. iTunes for Windows is a special tool designed to ensure that the users of Microsoft Surface or Windows PC can sync their devices with their iPod, iPhone, and iPad. In addition, this software enables you to listen to any songs you want in Apple Music as well as purchase TV shows and movies on a single platform.
In general, iTunes is an Apple's media player that also functions as an internet-based radio broadcaster, media library, and management tool. Users can take advantage of this tool to manage, purchase, download and play their favorite digital multimedia such as videos and music. Since this application allows users to sync different devices and exchange media, it provides users with seamless integration across various devices that they may be using.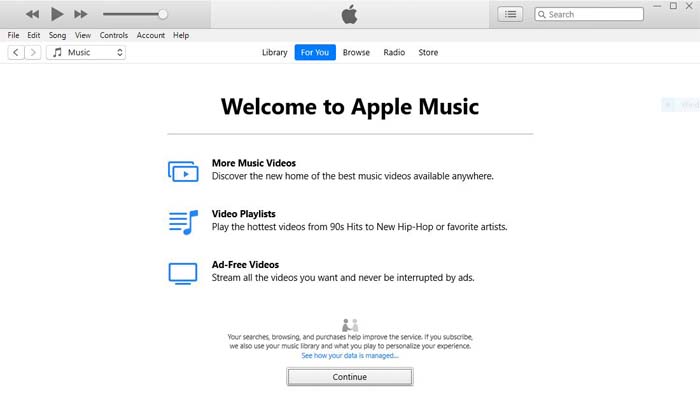 Features of iTunes For Windows
When it comes to managing your video and music collection, no app does it better than iTunes for Windows. This software allows you to access millions of digital entertainment with a few clicks. Whether you want to download, browse, manage or play your video or music collection, iTunes for Windows makes it possible for you without much hassle.
Access a wide range of media
The collections of multimedia available on iTunes for Windows are not limited to only music and videos; you can also access podcasts, TV shows, apps, audiobooks, and so on. Therefore, you can use this software to navigate through an array of multimedia of your choice. Whether you want to be entertained, inspired or educated, you have access to several multimedia that can take care of your needs.
Access your library anyhow you want
iTunes for Windows allows you to customize the way you view your library. Your library can be viewed by album, artist, rating, year of release or production, and episode. Not only does this feature allow you to be in total control of your library, but it also makes sure that you can locate your choicest multimedia quickly and easily.
Shuffle your songs the way you want it
Do you want to listen to any songs that are available on another PC within your network? If yes, use iTunes for Windows to sync the songs and have loads of fun. You can also sync songs and other content from iPhones, iPods, and iPads.
If you have CDs, you can use iTunes for Windows to turn them into digital music. All you have to do is to import them to iTunes and start listening to the songs on the go. You can utilize custom playlists to manage your entire music collection.
Utilize on-screen controls to manage your video
While using this program, your videos can be played with onscreen controls. These controls make it easy for you to do a lot of things with your videos.
Follow your friends and favorite artists
iTunes for Windows makes it easy for you to follow your friends and favorite artists as it affords you a chance to know what they are doing. So, use this program to discover what they are downloading, listening to, or watching.
Technical Specifications:
| | |
| --- | --- |
| Title | iTunes For Windows Download |
| File Size | 200 MB |
| License | Free |
| Requirements | Windows 10 8 7 |
| Author | Apple |
iTunes For Windows download link:
Tags: iTunes download