Responsive testing is amongst the top priorities for web developers after building a website. They need to ensure that the web app is responsive across all the platforms accessed by a user. But, considering the number of mobile browsers available in the market, it's almost impossible to check the mobile view of websites across all the browsers manually.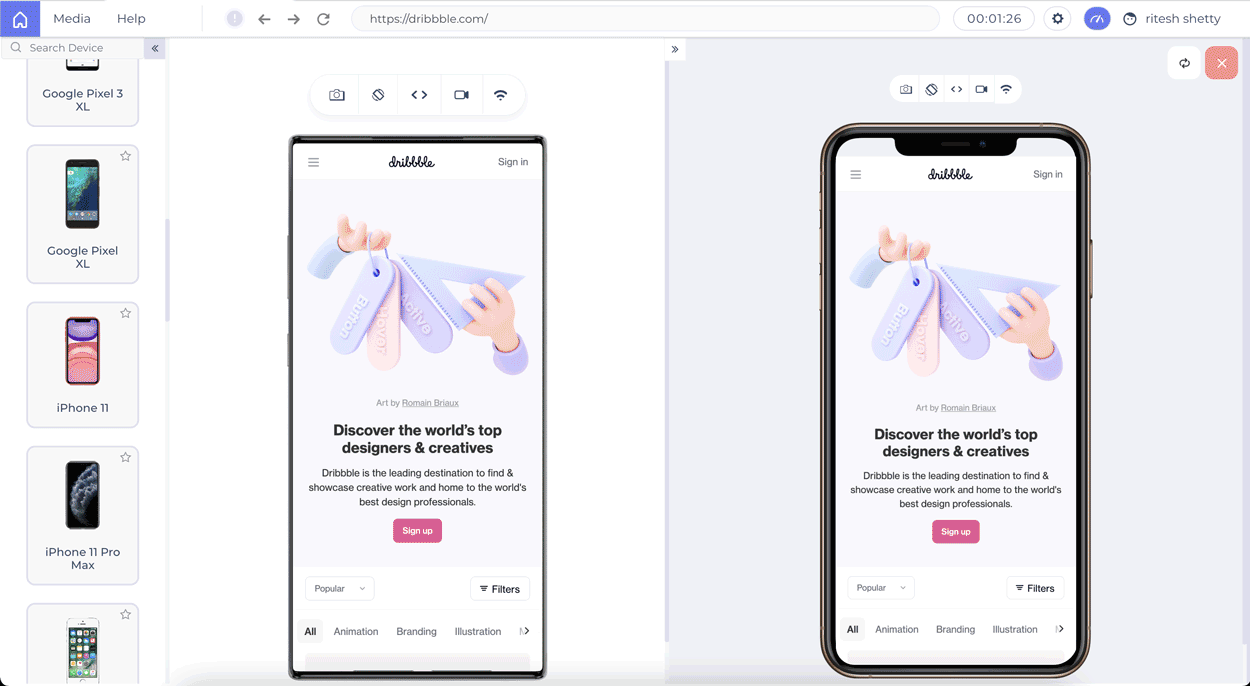 It will take a lot of time and resources if done manually because creating specific test scripts and accessing every device, browser, or browser version at your doorstep is not that simple. That's why web developers need a browser tool capable of executing multiple tasks from a single system. If we talk in specific terms, developers need a responsive testing tool to see how their website would look across various screen sizes and resolutions.
This is where the LT Browser comes into play. A homegrown app from LambdaTest is one of the adequate tools available to test your websites or web applications across many devices and resolutions. As an interactive tool, the LT Browser comes with 40+ pre-built and latest devices making it an easy task for developers to test their websites' responsiveness.
Well, the LT Browser isn't just limited to responsive testing. You can test website performance with lighthouse integration and generate reports to analyze performance metrics, SEO, responsive score, and more. This allows you to test how your website is looking and acting on different devices and resolutions. More features include:
Key Features of LT Browser
Check the responsiveness of your web app across all the major operating systems, including Android, iOS.
Includes the latest 40+ mobile devices, tablets, laptops, and an option to create a custom resolution.
Debug on the go with native developer tools that allow you to make changes in your code easily.
The hot reloading feature allows you to validate your changes in real-time.
Integrates with prominent project management and communication tools like Jira, Asana, Github, Slack, etc
Test your locally hosted websites and pages without using any external tunnel or framework. Just use the URL!
Sync on two devices simultaneously from the primary device with the Scroll Sync feature
Get the side-by-side view of devices while performing responsive testing without switching between devices.
Simulate websites on different network conditions e.g.: offline, 3G/4G
Pretty impressive, isn't it! What's more interesting is that it comes as a complimentary service with LambdaTest pricing plans, which starts from $15/month. Besides, you can also opt for the LT Browser Lite plan that doesn't include any costs. You get 30 mins free daily inclusive of all features to get started with responsive testing in the free plan.
Technical Specifications:
| | |
| --- | --- |
| Title | LT browser |
| File Size | 88 MB |
| License | Free |
| Supported OS | Windows 7+, macOS X 10.10+, Ubuntu 12.04+ |
| Author | LambdaTest |
LT Browser download link:
Tags: LT browser, browser for developers