Today's post presents the list of best spot the difference game apps for kids, that will become the reason for their endless amusement.
Let's discover new things without any pauses!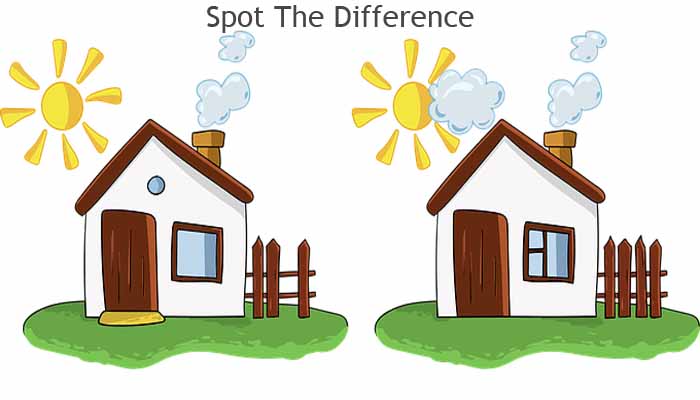 Top 5 Spot the Difference Game Apps
Playing puzzle games is not only entertaining but also relaxing. By playing such games, your mind will become stress-free and creative. Also, you will obtain time management skills and accurate predicting skills.
Besides, note a fact! When you search for puzzle games, you will find multiple games of various features. This research can be complicated for everyone. Worry not! We have already verified and mentioned the top names in one list. So, don't waste your time, take a look at the list and further details:
Spot The Difference – Find 5 Differences
Find Difference — Rooms
Find the Differences — Spot it
Find the difference 1000+ Levels
1. Spot The Difference – Find 5 Differences
It is a wonderful picture detective game that can be the best option for everyone. Its credibility starts from its theme, which catches the attention of the players in the first look. This difference finding game is designed in such a way that makes the playing experience fantastic. There is a complete balance of elements, including, high-quality images, decent background, well-designed items that make this puzzle game one of the best among spot the difference games. This game is also beneficial for boosting your problem-solving abilities and mental creativity. You will be given two pictures that seem identical, but they will have slight distinctions. The thing you have to do is spot the difference within the limited time duration to perform the task. Sounds fascinating?
Features:
There exist some cool features of this incredible game:
300 amazing puzzle levels are available.
Hint options are built; you can use them anytime if you get stuck.
High-resolution images for smartphones and tabs.
Automatically saving options if you leave the game in mid.
Can be used on all mobile systems and tablets.
2. Find Difference — Rooms
It is another best spot the difference game that comes with the large collection of features and eye-catching elements! Like the above game, you have to find differences between two images at a specific time. The best thing about this game is it contains 500+ levels, and as you reach new levels, it will become harder.
Find Differences — Room is a cost-free puzzle game recognized to find the differences or spot the differences. All you need to do is to take a look and select. You have to spot 5 objects with dissimilarities for each level.
Features:
3 minutes will be given to spot 5 differences.
Ability to zoom images by pinching and double taps.
Can play a stage again if you failed.
Unlimited clues are usable.
Stunning graphics and animations.
Soothing background music and tone effects.
Able to Auto-pause if you leave the game.
No buffering, no ads, and no hidden charges!
3. Find the Differences — Spot it
Find the differences game is an incredible way to loosen up after a lengthy day. You can play over 4000 different levels for free. The goal of this game is to have over 5000 levels for players that's why they are adding new stages and features weekly. This place is different from any other spot difference app games that you've ever played. If this app is your choice, then you are going to have more trends, more challenges, and more leisure. Plus, you are also welcome to play a competitive multiplayer game. The winner will be ranked on the level board.
Features:
Six different modes are available including, night mode, bonus mode, daytime mode, classic mode, computer mode, and multiplayer mode.
Hints are available.
4000+ levels are available.
Satisfying environment.
Wonderful animations and graphic designs.
Smooth, fast, and easy to use.
Cost-free.
Zoom by pinch.
4. Find the difference 1000+ Levels
This find difference game that contains more than 1000 beautiful and tough levels! Test your picture detective skills. Can you spot the hard dissimilarities and hidden stuff?
Make a comparison between images and just try to find the differences. If you think you are a pro, then try this game app. Besides, it uses brilliant tricks that can make the gaming feature super cool. Just like others, you have to spot only 5 objects in no specific time.
Features:
Being a relaxing app, this game doesn't require any timer to solve the puzzle.
Endless hints! Valuable to find the final hidden objects.
Uncover the distinction between High-Quality images and objects.
Zoom with one-click by using side displayed options.
Advancement on both simple and tough levels — some are difficult than you guess.
Pretty trophies! Discover and collect medals and trophies.
Built for both smartphone and tablet.
So, challenge yourself and enhance your observation skills with the above-mentioned cool games!