Xbox and PlayStation have been two household favorites for an approaching two decades. Sony released its first PlayStation console in 1994 and enjoyed a 7-year uninterrupted success. However, in 2001 Microsoft brought a new console into the mix and introduced the release of its widely successful Xbox console.
Since then, the two have competed to secure the number-one spot for gamers alike. Their last and most recently released consoles, the Xbox One and PS4, were released in 2013.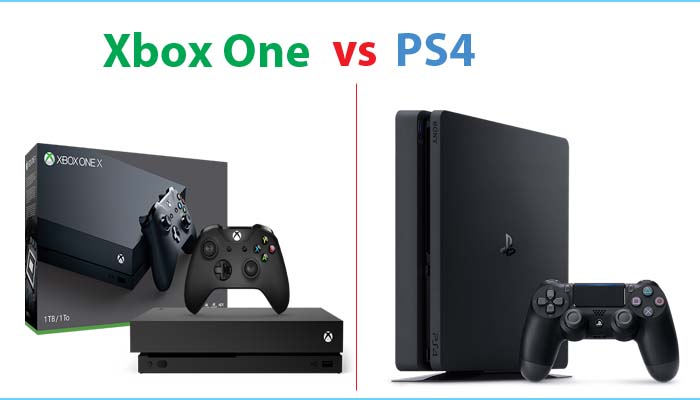 Which Gaming Console is right for you?
Similarities in Hardware
Both consoles have 8 GB of RAM, 500GB internal hard disks (or 1TB at an upgrade) and Blu-ray optical drives.
Processors
Jaguar is the manufacturer for the PS4 and Xbox One's CPUs. They host an eight-core Jaguar CPU, something similarly found in older laptops. While they do not quite match up to PC gaming power, the CPU power present within these cores is more than sufficient tie in a pleasant gaming experience with multitasking capabilities. Less notably, Xbox One does have a slightly faster CPU at 1.75GHz, compared to PS4's 1.6GHz which is hardly a "game" changer in CPU aspects.
Graphics
In terms of specifics, the PS4 as the ability to run games at high dynamic range, or HDR, while Xbox cannot. HDR creates a more realistic and "rich" image by increasing the level of contrast between light and dark elements on a screen. Many games on the PS4 can be played on 1080p, while the Xbox One can reach 900p on similar titles. Additionally, the PS4 hosts a 1.84 TFLOP AMD Radeon graphics card while the Xbox One has an Integrated AMD graphics card.
The main difference between these two is the size of the GPU, or graphics processing unit. Xbox One has 12 compute units versus PS4's 18 compute units. The number of units correlates with quality, giving the PS4 50 percent more powerful capabilities in terms of graphics. However, it has been noted that Xbox One has a slightly faster GPU clock speed of 853MHz, 53 MHz more than PS4. This does not prove to have a huge impact on graphic capabilities.
Controllers
Xbox One has controllers that are larger in size compared to the PS4's. Additionally, the grip is designed to be comfortable for users and the quality is very durable. Models created after 2015 also feature a headphone jack and the battery life is above average.
The PS4's DualShock controller has increased trigger accessibility with buttons such as L2 and R2. Users with "smaller hands" may find the grip on the DualShock controllers to be more comfortable. The "share" button on the DualShock pulls up a menu that allows users to broadcast and upload their gameplay instantly.
Streaming and Online Options
First and foremost, Xbox One and PS4 both have the availability of apps like Hulu, Netflix, and Spotify available for users to stream content.
That being said, PS4 and Xbox One similarly have a community of gamers that are avid uploaders of streamed content. Twitch broadcasting is readily available for gamers who want to directly stream their gameplay. However, PS4 allows users to stream directly to YouTube while Xbox cannot. Xbox One users, however, are able to stream to Microsoft's Mixer service.
Xbox One does hold its advantages against its rival, PS4, in terms of accessibility and other entertainment apps. Xbox One allows synchronization with cable tv profiles, allowing users the ability to switch between watching cable to a game almost instantly. Furthermore, Xbox One offers superior sound options. Gamers can benefit from immersive spatial sound for a theatre-like experience with its Dolby sound additions.
Kodi, an application that allows users to play a variety of different formats for media that may be found on different devices, such as music, video, or other game files, is only available on Xbox One.
Cable options are widely available for both consoles. Many users benefit from Sling TV that Xbox One also offers. This service hosts add-on packages for sports and news channels starting at 20 dollars a month. PS4 has a similar service called VUE whose packages average at about 40 dollars a month.
Xbox Live has a yearly and monthly membership service for users who enjoy multiplayer options. PS4's service, PlayStation Plus, also offers similar membership options. In terms of cloud storage, however, Xbox One has a slight advantage with the size of its cloud storage services. PS4 has suffered some outages in the past that has left users as skeptics involving its online presence.
Conclusion
Both consoles offer similar specifications in terms of streaming content and game accessibility. The PS4 is slightly at an advantage with its graphics display, while Xbox One has great surround sound options. The PS4 is more expensive and has seen higher sales than the Xbox One. Xbox, however, does win over users with its Live option and advanced entertainment add-ons such as cable television packages. Both consoles do have upgraded versions: the Xbox One X and the PS4 Pro. These versions have superior firmware updates and are able to run games at native 4K resolution.
In short, both consoles are still favorites among the gaming community since 2013 and there still remains, to this day, a prominent divide between both consoles user's likes and dislikes.