Top 5 reasons to subscribe to IP-telephony (VoIP) services
Savings are far from all that IP telephony is valued and praised for. We found many reasons to start using it. Here are the main ones:
Telephony can be quickly connected and configured
To work with IP telephony, you do not need to hire specialists, buy expensive equipment, train employees for a long time and run wires. Some providers even provide for the use of Android smartphones. In this case, simply installing their app is enough. For example, HotTelecom provides a lot of virtual international numbers for calls. Here are some of them: Albania, Austria, Brazil, Belgium, and so on. This is a good step towards improving your business in terms of communication with your customers.
In addition, you only need a few minutes to set up all the necessary functions and adapt telephony to your business. You can maintain blacklists and whitelists, use forwarding, set the call distribution algorithm, and enable other useful options that are included in your tariff plan.

It can be integrated with a CRM system
Specify in advance which telephony providers your CRM system integrates with. After setting up the integration, you can combine information about orders and calls in it. In RemOnline, for example, this makes it possible to make online calls and see the client's card during the conversation (name, number, history of his purchases, and calls). Employees will immediately understand who is calling them and for what reason.
With it, you will not be tied to the office.
In modern PBXs, the company number is not tied to a specific address or workplace. This is a cloud service that can be used from anywhere: from home, train, restaurant, or taxi. The main thing is to have the Internet.
So you can control business processes, process more applications, always be aware of events and avoid problems when moving to another office.
Telephony can grow with your company
Whether you are hiring new managers or opening another workshop, all you have to do is switch to the right plan with the right number of employees, rooms, and functions. No need to rethink the architecture of the lines and buy additional equipment. It is very comfortable.
You will be able to use multichannel communication
It is needed in order to simultaneously receive several calls to one number. The PBX will see the calls and immediately forward them to the phones of free employees. This will make it easier for customers to contact you.
As you can see, telephony is a very useful thing. It will help you solve many important problems. We will talk about them in more detail in the next paragraph.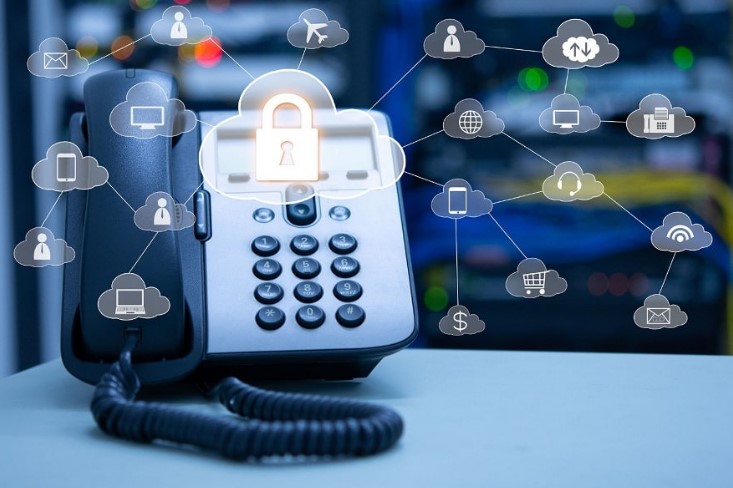 Why IP telephony is needed for a business in the service sector
In addition to the obvious savings on outgoing and corporate communications, you will get a number of useful options. After integrating IP telephony, you will be able to:
connect short and city numbers;
call and transfer calls in one click;
see the client card during the conversation;
allocate lines for employees and departments;
keep white and black lists;
configure the call distribution algorithm;
receive notifications of missed calls;
save, listen to and analyze dialogue recordings;
create, edit and import contacts;
see the queue and keep a record of calls;
collect statistics on the work of subordinates;
use the voice menu with greeting and call hold;
use a multichannel number;
connect employees and departments into a single network.
We have listed only the main functions of IP telephony. The number of additional features will depend on the selected operator and tariff plan. So, a call classifier, automatic outgoing calls, Call Tracking, multi-channel chat, and conversation scripts can be added to the standard package. All this will help you prevent lost calls, as well as speed up communication with employees and customers.
Telephony is an excellent tool for analyzing and improving the quality of service. You can measure the average duration of calls and wait in line. Understand which of the customers contacted you for the first time. Quickly resolve conflict situations using call recordings. Provide training to employees based on the tapped calls and study customer behavior. All this will help increase profits and improve the image of the company.
It remains to decide on the provider and we will help you with this.
IP telephony: how to choose the right provider
The quality of communication and convenience of working with the service will depend on the telephony operator. Therefore, we have prepared a checklist for its selection:
Decide what communication tasks you want to solve. Think about what exactly you do not like in the current method of communication and make a list of the necessary functions.
Check which providers your CRM system integrates with. This way you can only consider options that are right for you.
Make a list of companies to choose from. This will help ratings, reviews, and recommendations of friends and acquaintances.
Calculate your budget and compare it to your needs. Decide how many workplaces you want to connect to and what options you definitely need (the list from the first paragraph will come in handy). Consider the number of your branches and the geography of sales. If you have a large company and need to make frequent calls abroad, pay attention to large operators with favorable rates for international calls. Then weigh it all against your budget.
Compare the providers that are left on the list. Chat with their staff by phone or chat. Ask the maximum number of questions and evaluate the speed and quality of the answers. This will show the reliability and qualification of your future partner's support service. Take advantage of the free trial period to see how easy and convenient it will be to work with the selected services. Then weigh the pros and cons and connect the most optimal option.