On their laptops or computers, the majority of people keep a lot of private information If you don't properly safeguard your computer when you're online, confidential information might get stolen or unintentionally deleted. Over the internet, your computer may be targeted in various ways. Spyware and viruses can delete files and let hackers search your computer for private details. Even worse, your computer might be compromised (when someone gains access to your computer through your wireless network). Trying to stay safe on the internet is a difficult task but not impossible.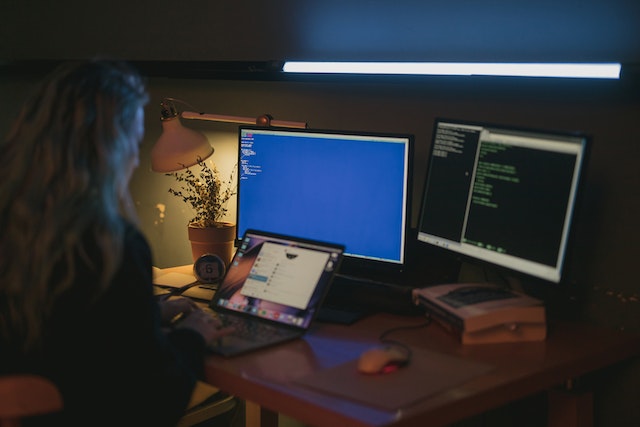 You ought to keep in mind that the internet was not built with keeping all its users secure as they browse online. Recent reports have found over 5 billion internet users, showing how ungovernable the internet is. Therefore, it is important to take your security into your own hands and follow good practices and advice whenever possible. Here are some easy and free tricks you can do to start being more secure online:
Use Privacy Tools Like VPNs
Virtual private networks (VPNs) shield your data and conceals your IP address when you go online on the internet or use applications or software. Your data is encrypted by the VPN before being sent to servers in distant states or other locations via secure networks. You can access the internet anonymously by using a VPN to conceal your online identity. A VPN, in its simplest form, offers a secured server and conceals your IP address from businesses, authorities, and would-be hackers. A free VPN with unlimited data protects your privacy and keeps personal data hidden from prying online eyes when utilizing shared or public Wi-Fi. This feature can be particularly useful for remote workers and people who travel a lot, as a VPN will keep you safe online when you use public networks in airports, coffee shops, and other places with public networks.
Instead of routing your connection to the internet to a hosted server, a VPN gets around your ISP. Users can "relocate" themselves and use the internet from almost any place thanks to the widespread distribution of servers. Encryption provides an additional degree of security, especially for companies that routinely use remote access. Additionally, it can be a useful tool for streaming, gaming, and travel.
Apply Strong Password Practice
We frequently feel secure when we rely on passwords to safeguard our privacy. The terrible fact is that a hacker might not be discouraged by a password alone. It's possible that a hacker already has your passwords if you detect any strange behavior on your computer. We need passwords to access practically every area of the internet, but because we are used to it, we could become complacent. A password may come to appear unnecessary or even burdensome after some time. A smart tip is to use a free password manager, that can generate and store all your passwords for different accounts.
You might feel more at ease using basic passwords that are easier to crack with even the tiniest effort than trying to remember multiple complex ones. A strong password should be at least 14 letters long and contain capital letters, lowercase letters, numbers, and symbols. Your password is likely not particularly strong if it includes information that is readily available to the general public, such as your birthdate, address, or dog's name. The same goes for a predictable set of numbers or letters, such as 'password123'.
Install an Antivirus, Firewall, and Other Security Software
You run the danger of getting infected by a wide range of cyber-attacks every time you browse the internet, such as trojan horses, phishing attacks, and ransomware to mention a few. Fortunately, an anti-virus has a barrier that can identify these intrusions, and a recovery tool aids in getting rid of these harmful programs from your computer. Your computer systems can be protected from illegal online access using both a firewall as well as a VPN. An antivirus can protect your PC and its internal health with scans and actions that remove malicious files, whilst a firewall acts as a barrier and censors incoming and outgoing internet traffic and data, monitoring dangerous content.
Make Sure You Remove Cookies
The decision to delete cookies is personal. Cookies enable websites you've visited to remember information about you for a more comfortable user experience, such as your password and email address. Nevertheless, tracking cookies do put your security in danger. By enabling cookies, you consent to the transmission of your data to an unidentified recipient. Numerous cookies are comparatively safe and only use your Internet address for market research.
Others, though, might provide a tracking host with your name and address, enabling advertisers to reach you with pinpoint accuracy. Your computer's cookies can be deleted using an option in every browser. For instance, the upper-right corner of Internet Explorer's browser screen displays a gear icon. Simply pick "Internet Options" from the menu box by clicking the gear icon, and then choose "Delete browsing on exit."
Keeping software updated
Many of the finest privacy measures are probably ones you already know. Using secure passwords, disregarding strange emails, ignoring links that seem fishy, and never sharing your personal information are a few examples. You're in a great position to protect your online privacy when you combine these techniques with enhanced editions to your security software. Updates to software can fix security flaws, replace outmoded functionality, improve app compatibility, and even speed up the operation. These updates can shield your computer from malware and stop them from infecting other computers.
Awaiting an update? When your software developer pops a window and asks if you'd like the newest additions, just click "yes." Most manufacturers provide updates without charge, although some want a technical support agreement. Specific information should be available on each program manufacturer's website to assist you in downloading their security updates.