iTop Screen Recorder is a free, simple, and lightweight screen recorder for PC with a built-in video editor. The app is designed to provide the user with as much flexibility as possible by allowing them to capture a specific portion of the screen. This allows the user to save a large amount of time when it comes to video editing and editing.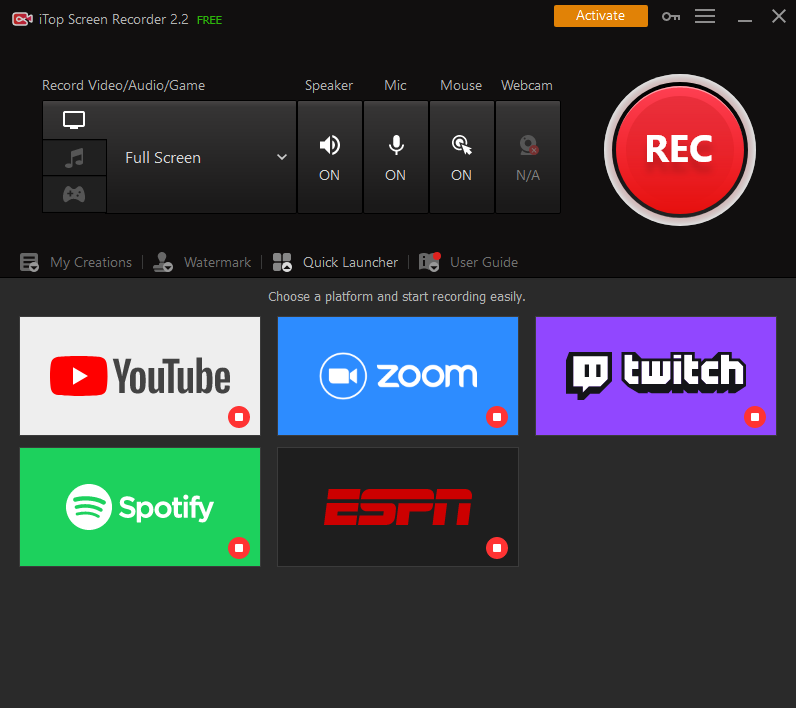 iTop Screen Recorder's features make it ideal for recording conference calls, online classes, video tutorials, HD movies, gaming vlogs, and more.
As a user, you can save a recorded video in a variety of video formats, including FLV, GIF, MP4, AVI, and others. You may also post your recorded video directly to Facebook, YouTube, Twitch, and Instagram using the app.
Important features of iTop Screen Recorder
No time limit or a watermark on the video
The user-friendly experience is what sets the screen recorder apart from other products. You can record for as long as you like, and the video has no default watermark.
Webcam and audio recording
One of the most annoying situations is capturing the screen just to discover that there is no audio or face with it.  iTop Screen Recorder saves you the trouble by simultaneously recording the screen with audio and webcam. It is, of course, a free function that costs you zero.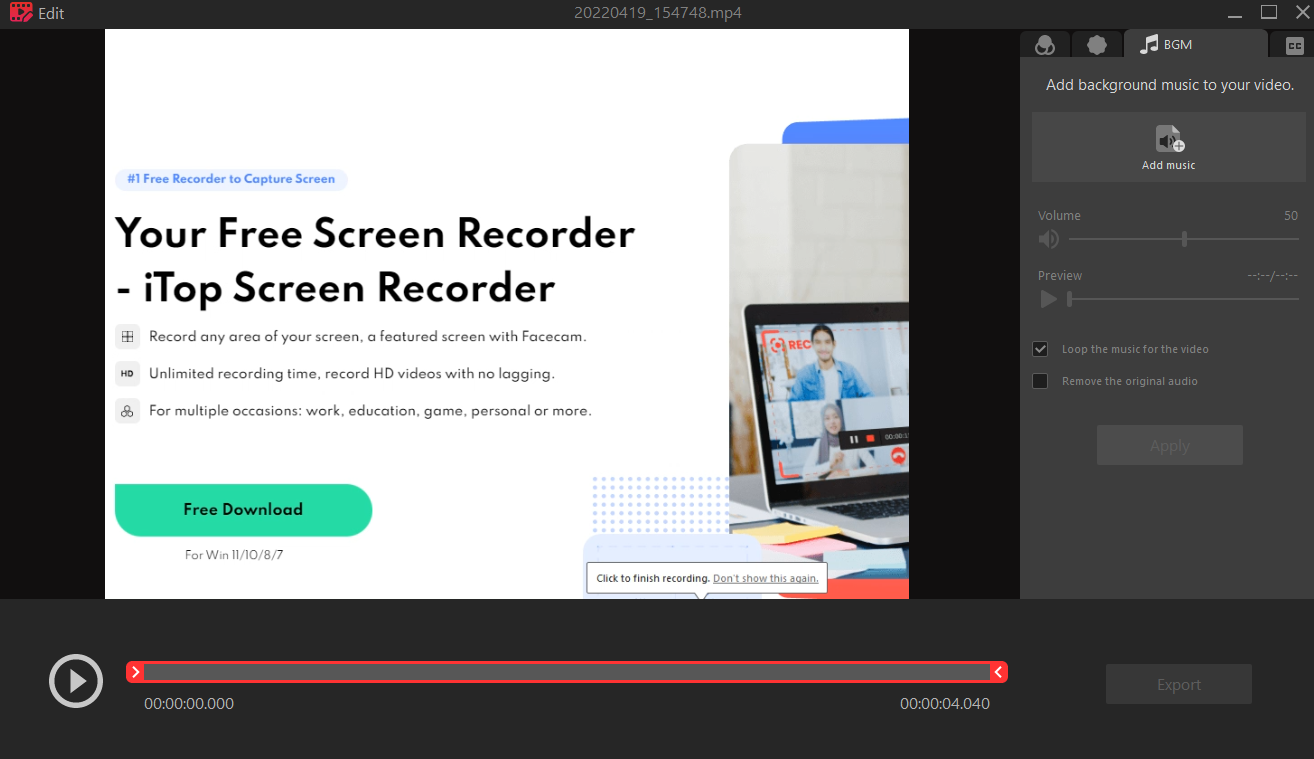 HD recording with no lag
iTop Screen Recorder is an extremely light and well-optimized screen recorder.
It takes advantage of a hardware-accelerated H.264 encoder, allowing gamers to record 2D/3D games in great resolution with no lag.
Built-in video editors
iTop Screen Recorder, as one of the best screen recorders on the market, also allows you to edit your recorded video within the same software including adding subtitles, music, stickers, etc for free.  You have complete control over every frame, from the audio to the visual quality.
Taking a screenshot in the recording
The ability to take screenshots while recording is another notable feature of the software. The user will have a better experience with this simultaneous functionality.
How can I use iTop Screen Recorder?
Step 1: Set up your recordings
Download the install the software from its official website, launch it, and choose the region of the screen, turn on the webcam,microphone and speaker recording.
Step 2: Start your recording
All you have to do now is press the record button, and the iTop Screen Recorder will begin collecting every frame with no lag. You can set the hotkey to start, pause and stop the recording.
Step 3: Edit and save the video
After you've finished recording, save it and open the built-in editor to add subtitles, BGMs, and filters to make the video interesting.
FAQs
Is iTop Screen Recorder suitable for gaming?
Yes is the straightforward answer. With iTop Screen Recorder, you can capture everything from clipping your gameplay for vlogs to creating tutorials and content. The built-in audio and webcam recorder will also ensure that your gaming session has excellent audio quality.
Is it possible to use iTop Screen Recorder for free?
Yes, the iTop Screen Recorder gives the user a free experience that you can record anything on your screen with no time limit. But not if you want to add a customized watermark, or use the GPU acceleration recording, you need to upgrade to a Pro edition.