Smartphone usage is on the rise, and they're in almost everyone's hands these days. Almost everyone adds a screen lock pin password or pattern lock to their phone to prevent unauthorized access. It's possible that this is due to the fact that their phone holds personal and sensitive information. If you don't share your password with anyone, no one else will be able to access your Android phone once you've locked it.
Having your Android device or mobile device's password forgotten can be frustrating and time-consuming, and being fully locked out of your lock screen is even more irritating and cumbersome. It can be challenging to unlock your Android device at first.
But don't worry, there's nothing to be worried about. I know how to unlock an Android phone in a couple of different ways. This method can be applied if you forget your phone's password pin or your fingerprint or face unlock is not working. And if you have got a used phone and you don't know the pin, you can use this method in that case too.
Methods to Unlock Android Phone Without Password
Method1. Using Google's "Find My Device"
There are a few conditions that are required to get this method working
Your android phone must be on.
Google account should be logged in the device.
Phone should be connected to mobile data or WiFi
"Find my device" is turned on
If all the above conditions are met then proceed with this method as explained below:
Go to android.com/find and sign in to your Google Account.

If you have more than one phone, click the phone (that you want reset password) at the top of the screen.
If your phone has more than one user profile, sign in with a Google Account that's on the main profile.

Select Erase Device
It will permanently deletes all data on your phone and your password too.
Now you can use your phone and set a new password.
Method2. Using Droidkit
If you are not comfortable with technology or if the two options above do not work for you, iMobie's DroidKit may be the best option. You don't need any additional technical knowledge to employ DroidKit, and it's simple to use and accessible to everybody.
All sorts of Android screen locks, PINs, passwords, patterns, fingerprint ID, and facial recognition can be removed with DroidKit. It also works on over 20.000 Android phone models from all manufacturers, with some notable outliers such as OnePlus phones. However, the creators are trying hard to include these as well. You don't even need to root the smartphone to unlock it; all it takes is a few easy clicks in the software program. However, the operation will delete all of the data and material on the unlocked phone. After all, DroidKit is only meant to be used for personal and legal purposes.
Step by Step Guide to unlock Android phone using DroidKit
You can download DroidKit from this link. Install it on your PC and follow the steps mentioned below:
1. Launch the DroidKit program. Select "Unlock Screen"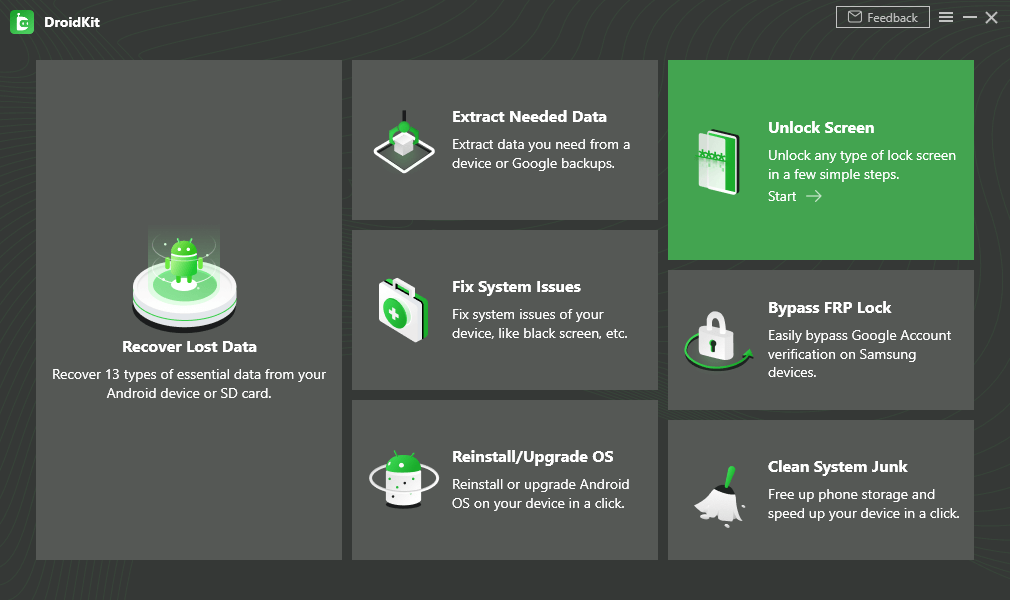 2. Connect your android phone using a data cable and click on Start.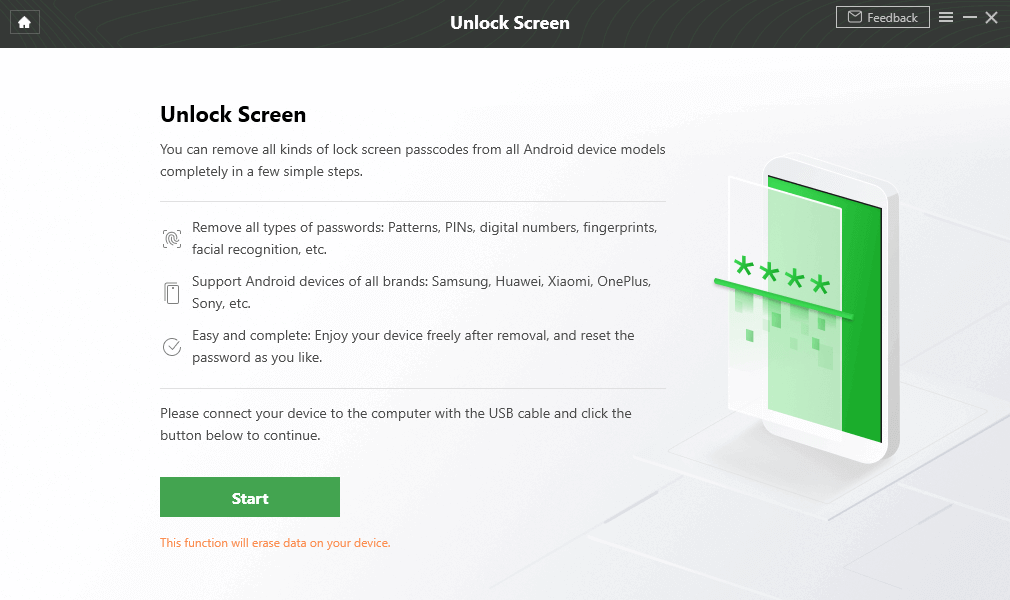 3. Follow the instructions on the screen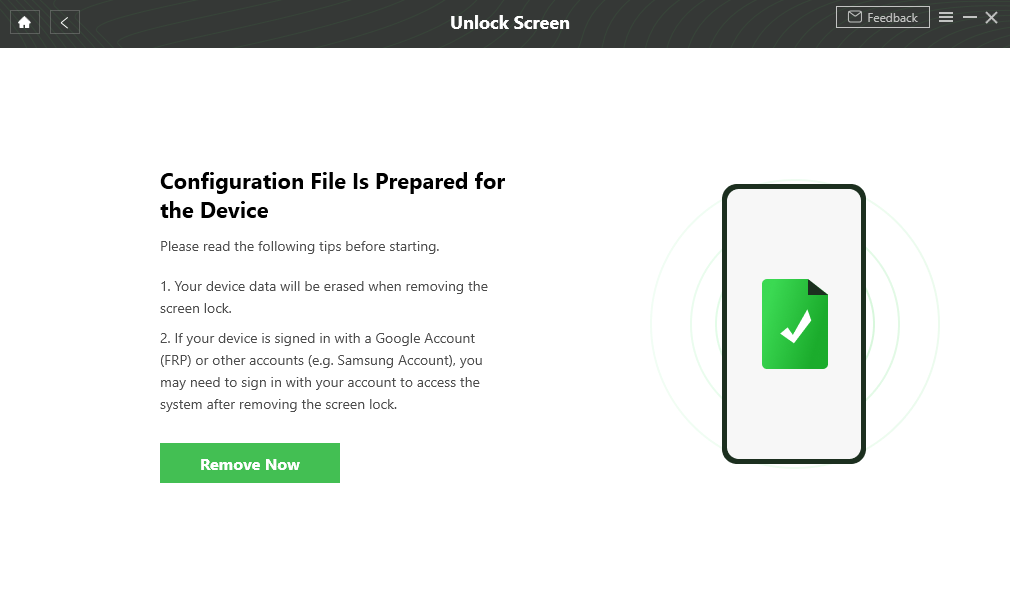 4. If everything goes right you will see this confirmation message "Screen Lock Removal Completed"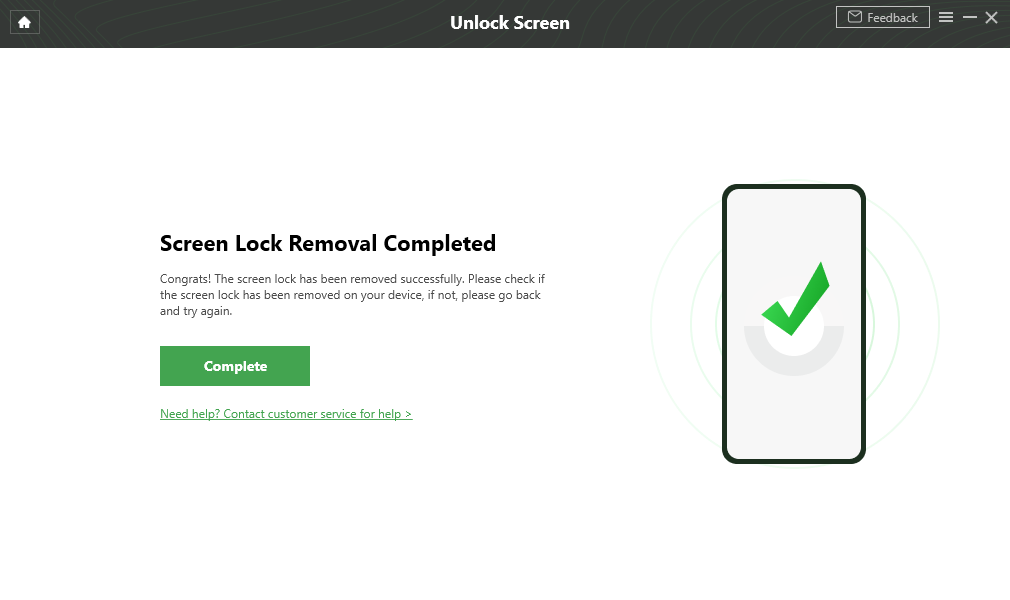 Following these simple steps, you can unlock your android phone without a password.
You can also watch this video if you are stuck on any step