The locking system used by Apple is a nightmare. A user may wish to remove the iCloud Activation Lock when they buy or inherit a used iPhone (or iPad), activation lock appearing after restoring backup and iOS devices being locked by malicious attacks, but when they try to set it up, it keeps asking for the previous owner's Apple ID and iCloud password.
The feature means the smartphone, tablet, or watch is locked to their iCloud account, preventing the person from using it unless they have their Apple ID password.
The problem can be fixed if the users know their Apple ID and password. However, it will be a tricky problem if you do not have the Apple ID and password. The good news is there is an option that might help, and that is the AnyUnlock, an iCloud Activation Unlocker which can help users remove iCloud Activation Lock without a password. It is the quickest, cheapest, and most reliable way possible.
Essential Features of AnyUnlock
There are some essential features you need to know about AnyUnlock-iCloud Activation Unlocker
Bypass iCloud activation lock on iPhone iPad iPod touch with a few clicks.
Quickly retrieve the Apple ID you forgot in minutes.
Avoid getting a troublesome second-hand iPhone iPad iPod touch.
Supports devices running iOS 12.3 and above currently.
Support iPhone 5s to iPhone X, iPad 4 to iPad 7, and iPod touch 7 to iPod touch 9.
The Steps to Remove iCloud Activation Lock using AnyUnlock
Now you can follow the steps below to bypass the iCloud activation lock on the iPhone iPad iPod touch. 
Step 1.  Get AnyUnlock iCloud Activation Unlocker installed. Launch the software, and you will see the page below.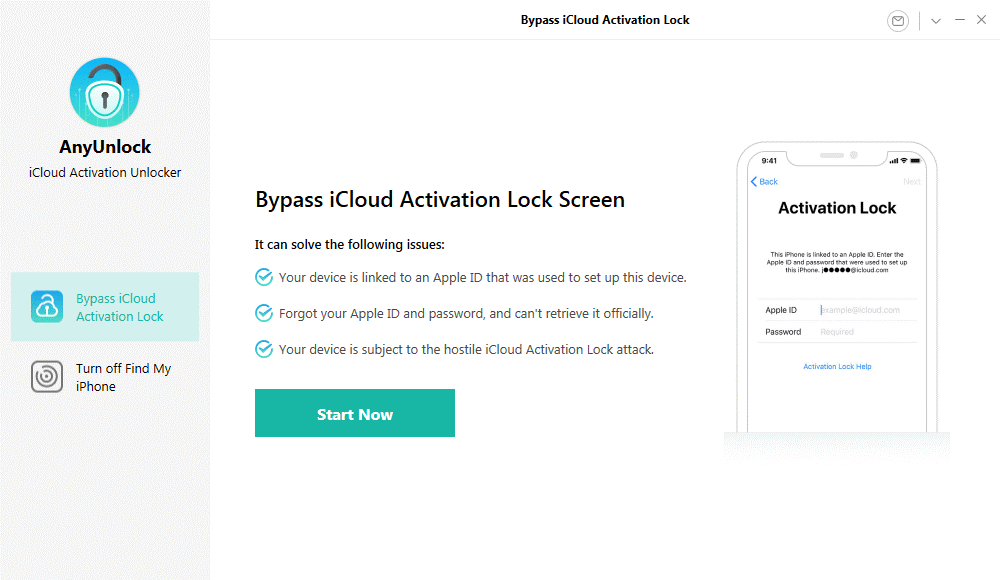 Step 2. Connect your device and click Start Now button.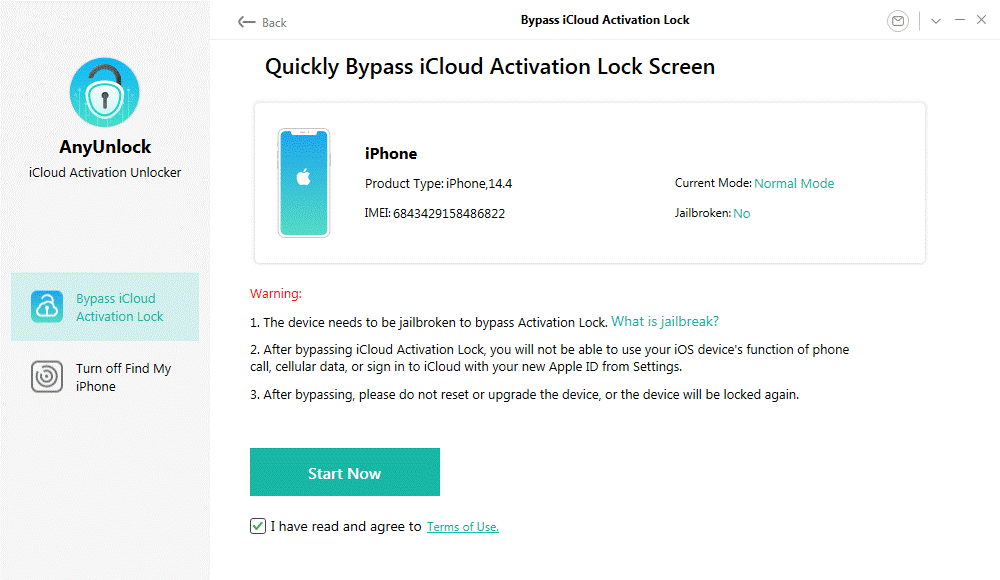 Step 3. Then, you need to jailbreak your device to allow AnyUnlock to bypass for you. Read the jailbreak tutorial to do and click Next once finished.
Step 4. Then you can start bypassing after clicking the Start Now button.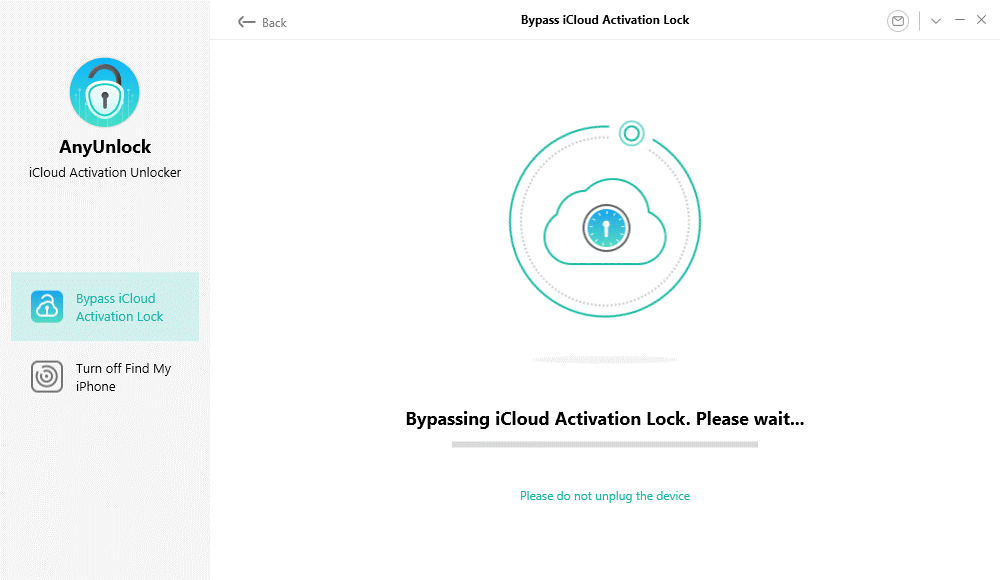 Step 5. Wait until the process is finished. You will get iCloud Activation Lock is removed page successfully as below.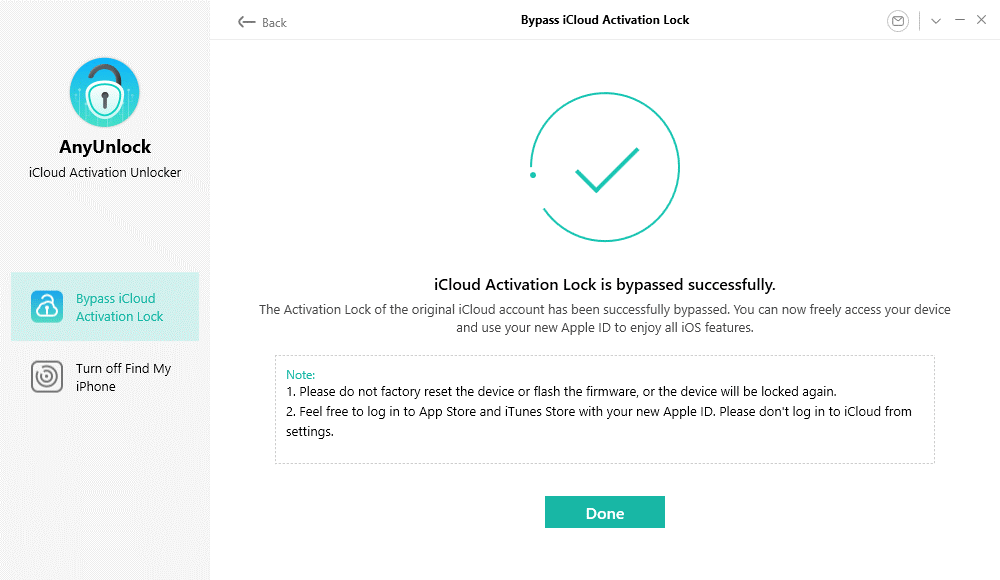 You can now log in to the App Store to download whatever applications you like and go to the iTunes Store to get the music and movies you found with your new Apple ID. You can also check out the process on how to remove iCloud Activation Lock without a password on this link  https://www.imobie.com/support/how-to-bypass-icloud-activation-lock-on-iphone-ipad.htm
The benefits after using AnyUnlock to remove iCloud Activation Lock
It helps you to regain access to the iOS devices
You can sign into App Store or iTunes with another Apple ID.
It helps you to get rid of the previous Apple ID's control of iOS devices.
Attention:
You cannot use the iOS device's function of a phone call, cellular, and log in iCloud of your new Apple ID from settings after iOS activation lock removal.
Turn Off Find My iPhone/iPad/iPod touch without Password
Can't turn off Find My iPhone or sign out of iCloud when you forgot your Apple ID and password? Let's see what AnyUnlock can do.
You can easily turn off Find My iPhone without a password.
Sign out of iCloud without a password quickly.
100% successfully remove Apple ID from iPhone/iPad/iPod touch without knowing the previous owner.
Your device will be restored to factory reset and you can set it up as a new one.
Note: This feature currently only supports iPhone 6S-iPhone X with iOS 13-iOS 14. After you turn off find my iPhone, the Activation Lock will not appear no matter when you restart or factory reset your iPhone.
If you are having trouble understanding the process, then you can watch a video explaining the steps.
Conclusion:
I hope by using the AnyUnlock, you'll be able to easily remove the iCloud Activation Lock and get access to your iOS device.