WordPress site owners and developers always have the need for a spare site where they can test a plugin or a theme. Sometimes they use it as a staging site where they make changes that, if proven good and don't break anything, can later be safely applied to the live site. Some developers use a test site to build a complete website, and then move it to the live one for the launch.
There are also people who are just getting introduced to the WordPress world and need a place to start of. For all of the groups mentioned and others too, a simple solution is available to create a free WordPress site: TasteWP.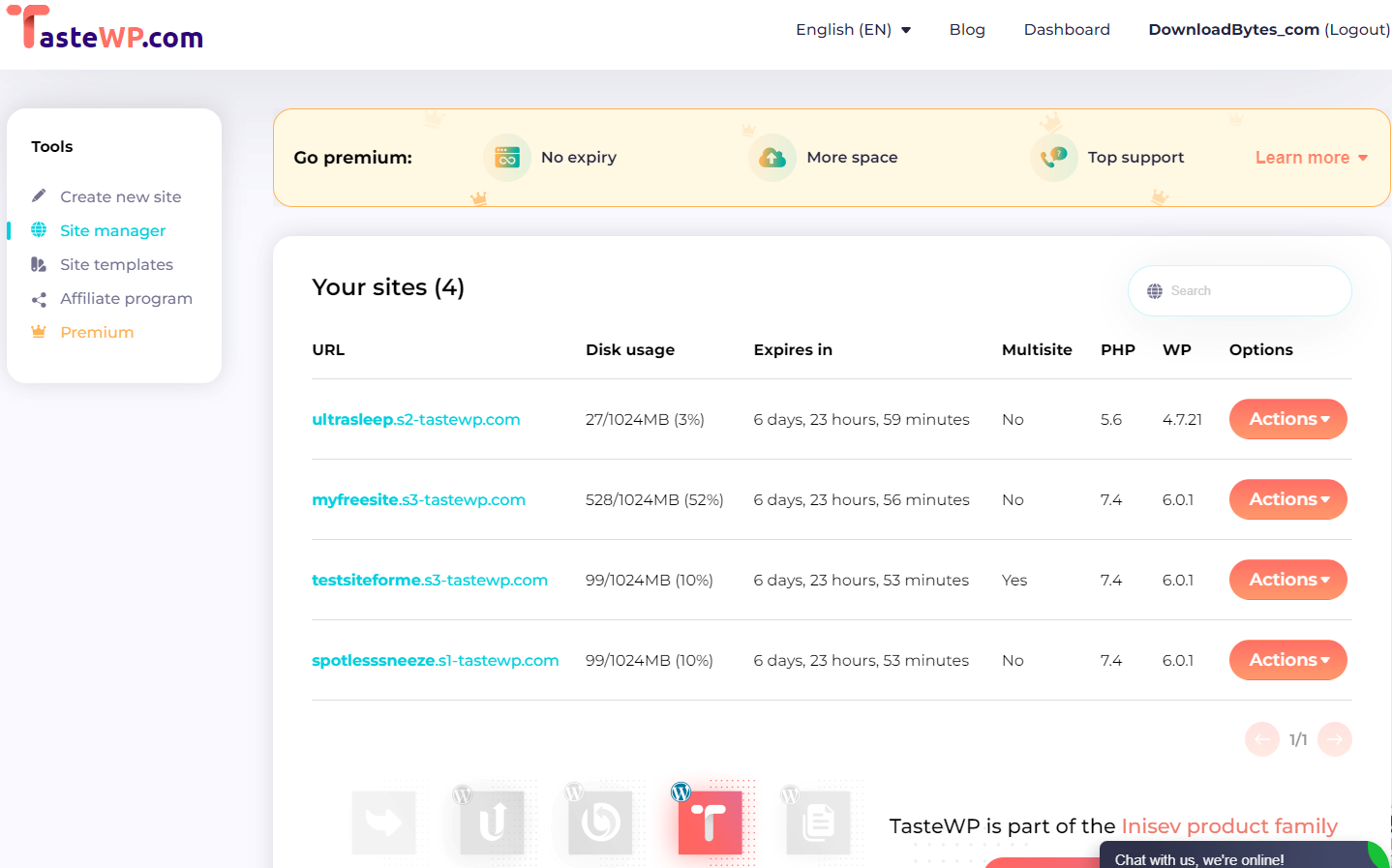 Creating a WordPress in under 5 seconds
It only takes 2 clicks for an unregistered user to create a free WordPress test site on TasteWP and the creation process is blazingly fast and lasts less than 5 seconds. A fresh test site will be created using the latest stable and secure versions of WordPress and PHP. One click after the creation is finished and you will be taken directly to the WordPress Dashboard of your test site.
Each test site currently has a size limit of 1GB. Test sites last 7 days for registered users and 2 days for unregistered users. Registered users can have up to 6 active test sites, while the limit is 2 for unregistered users. Recently introduced premium test sites have no expiry time and have an expanded size limit of 20GB, and users can have as many as they please.
Creating a test site with Advanced Setup
From the TasteWP and also from the Dashboard if you are a logged-in user, you can create a test site with a pre-defined setup. Advanced Setup lets you choose specific PHP and WordPress versions that will be used for the test site, as well as a few pre-installed plugins and themes, and several options from Advanced WP Config. These include WP debug and log, WP cron, WP cache, and automatic updates settings.
On the same screen, you are able to give your site a custom name, optionally set it as WP multisite, and finally choose to create it as a standard or a premium site.
From the TasteWP Dashboard, registered users can also change the PHP version of their existing sites, as well as manage them, delete them, jump into the site's admin area, remotely disable all plugins, download debug logs and assign premium sites.
Quick plugin demo sites
TasteWP provides the simplest and fastest way to spin up a demo site of any plugin located in the WordPress repository. All you need to do is to edit the plugin page URL so that "wordpress" is changed into "tastewp" and hit Enter.
For example, edit https://wordpress.org/plugins/elementor/ into https://tastewp.org/plugins/elementor/ and hit Enter. In a couple of seconds, you will have a brand new test site with the Elementor plugin already installed. The trick works in the same fashion for WordPress themes as well. For the laziest users, TasteWP developed a magic bookmark that you can simply click on, to save you the URL editing part.
Besides this quick demo startup, TasteWP also has a more sophisticated way of constructing demo links, or Site Templates. This feature is especially valued by plugin developers. With it, users can pre-define up to 5 plugins and 1 theme that will be installed with a single demo link.
For example, this link demo.tastewp.com/oceanwp-bundle will install the OceanWP theme as well as a few of the complementing plugins and redirect to the OceanWP menu page. The cool thing about the demo links is that they can also be created with premium and custom plugins, not just the free plugins.
Benefits of having staging and testing sites
Nobody wants to break down their live site. And breaking down a site is not too hard to do. That is why webmasters and developers rightfully choose to perform tests and experiments on safe grounds.
With TasteWP users have test sites hosted far away from their own servers, completely safe from doing any harm to their live sites with bad code, incompatible plugins, or some insecure software.
Senior WordPress users and newbies now all have fast, free, and easy-to-use tool for their work with TasteWP.