A reaction video is a video recording of people making reactions to something. It is a new form of video and has become more prevalent during the Covid-19 period. Reaction videos are widely spread on video streaming platforms, like YouTube, TikTok, Instagram, etc. A reaction video is generally composed of two parts: the original video and your reactions. Actually, it is not difficult to make reaction videos. What you need is a versatile video editor compatible with your device. This post will focus on how to make reaction videos on Windows, Mac, Online, and Mobile phones. Read and have a trial to learn more video editing skills.
How to Make Reaction Videos on Windows 10 and 11
FilmForth is an excellent choice if you want to make reaction videos on the Windows system, like Windows 10 and 11. It is an all-featured, easy-to-use, and free video editing desktop tool. Its inbuilt picture-in-picture function allows you to put your reaction video clip on the original video file.
Whether you are a professional YouTuber, Vlogger, or new to video editing, you can choose this video editor to make reaction videos. It's not as complicated as a professional video tool. It's easy to navigate, and new users can utilize it quickly. This video editor provides rich video editing functions to make your videos more attractive. In addition, it can also help you export ultra-high-definition video, up to 4k video resolution.
Check out how to make reaction videos with FilmForth in detailed steps:
Step 1. Import Video Clips to FilmForth
Download and install FilmForth from Microsoft Store or from the IoForth official website. Then launch the software on your computer. Click New Project in the middle and import your video clip.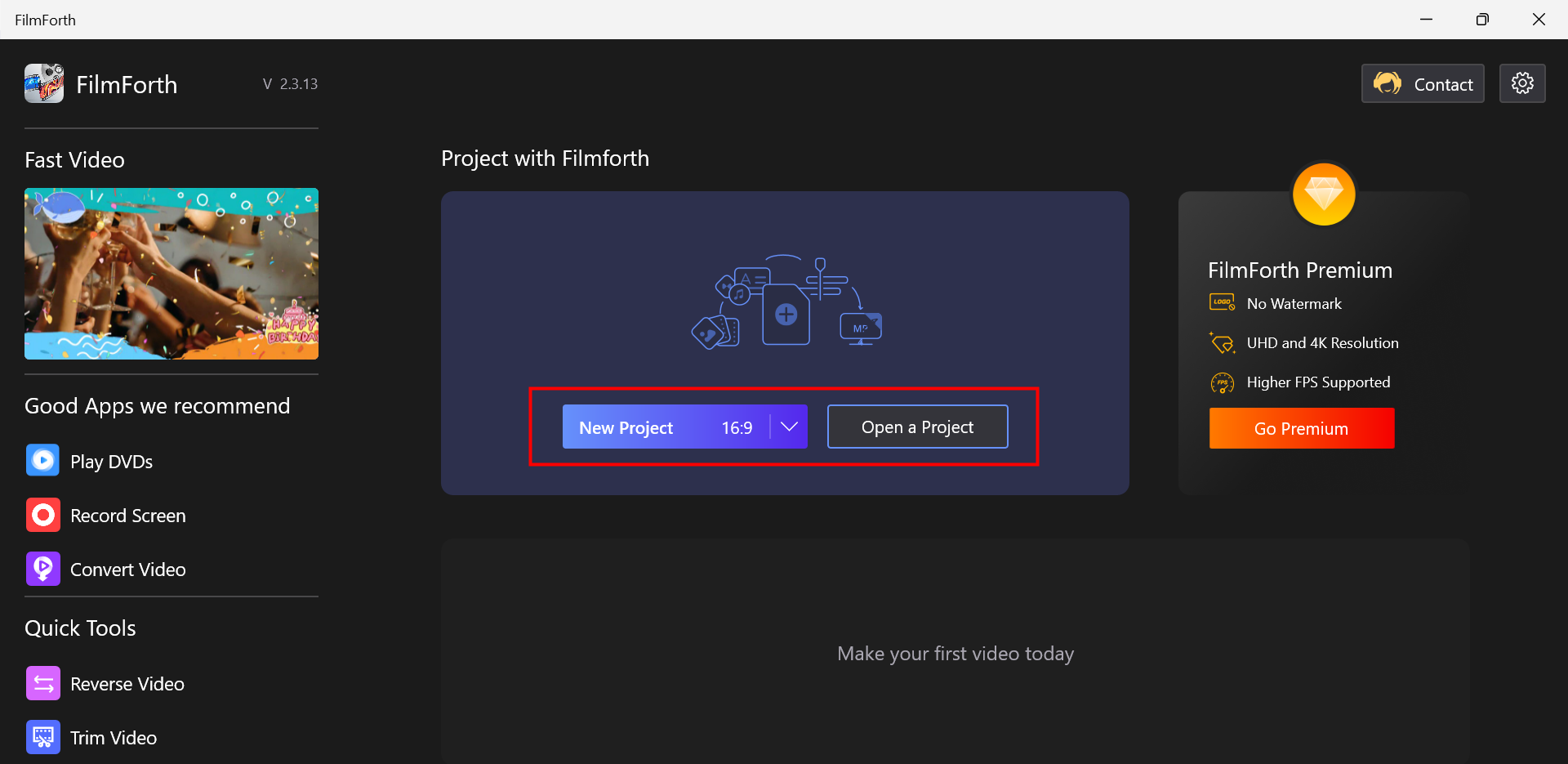 Create a Project in FilmForth
Step 2. Make Reaction Video
Tap Picture in picture in the following toolbar and import your reaction video. Adjust the reaction video clip to a proper position.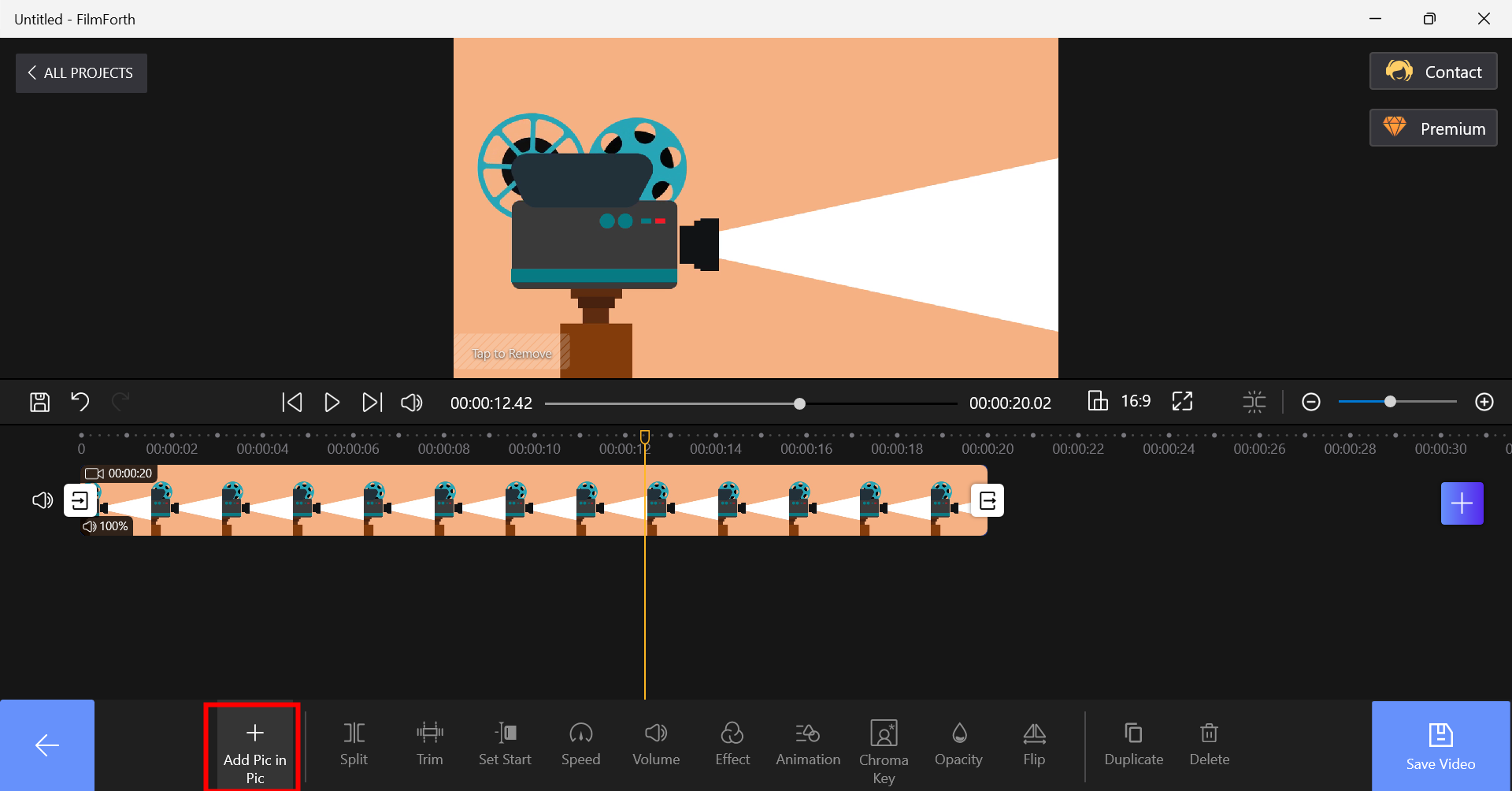 Make a Reaction Video with FilmForth
Step 3. Export the Video
Click Save Video to download the edited video to your folder. Before saving, you can decide the saving path, file name, and video resolution.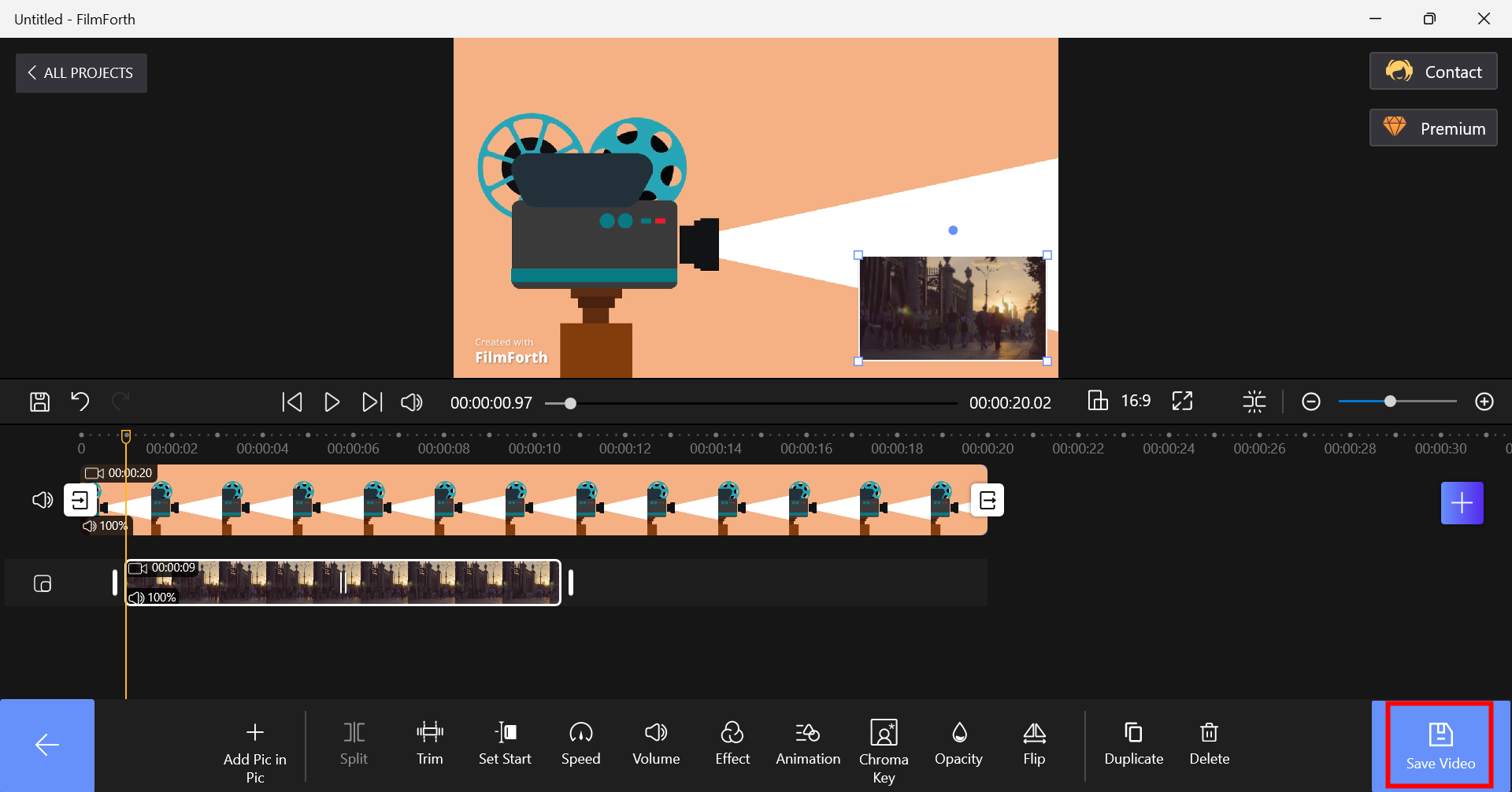 Save the Edited Video to the Folder
How to Make Reaction Videos on Mac
IMovie is the most convenient video editing software that can help you make reaction videos on a Mac system. It is a video editor that comes with Apple-related devices. With it, you can save the tedious steps of picking up and downloading software.
Moreover, it is worth mentioning that it is entirely free to use. It has built-in rich video editing tools, which are suitable for novices. Generally speaking, it can meet the video editing needs of most users. iMovie also offers a picture-in-picture feature that permits you to make reaction videos. What's more, its green screen function can help you remove the cutter background from your reacting screen. Have a look at how to make reaction videos in iMovie in steps:
Step 1. Open iMovie on Mac, then add the original video you want to make a reaction to it.
Step 2. Click the picture-in-picture icon on the top menu bar and import your reaction video clip. Customize the position of your reaction video.
Step 3. Export the video to your folder. In iMovie, it is feasible to export 4k videos as well.

Make Reaction Videos in iMovie
How to Make Reaction Videos Online
If you feel that downloading and installing software is cumbersome and takes up computer space, you can try an online video editor, Clipchamp. Not only does it include a picture-in-picture function, but it also allows you to record your reactions directly using Clipchamp's online webcam.
You can use it to record 30 minutes of video for free. All video editing processes will run in your web browser without downloading any software. But since it is online software, the actual using effect depends on your network condition. Sometimes upload and download speeds are slow due to network speed issues.
Step 1. Open the online video editor page: https://clipchamp.com/en/video-editor/. Then sign in with your account. Click the Add button to upload your video.

Upload Video File to Clipchamp
Step 2. Record your reactions or upload the reaction video to the different overlay. Select the reaction video and click Picture in picture, then determine the position of it. You can put it on the top left, top right, bottom left, and bottom right. Finally, press the Export button to download it.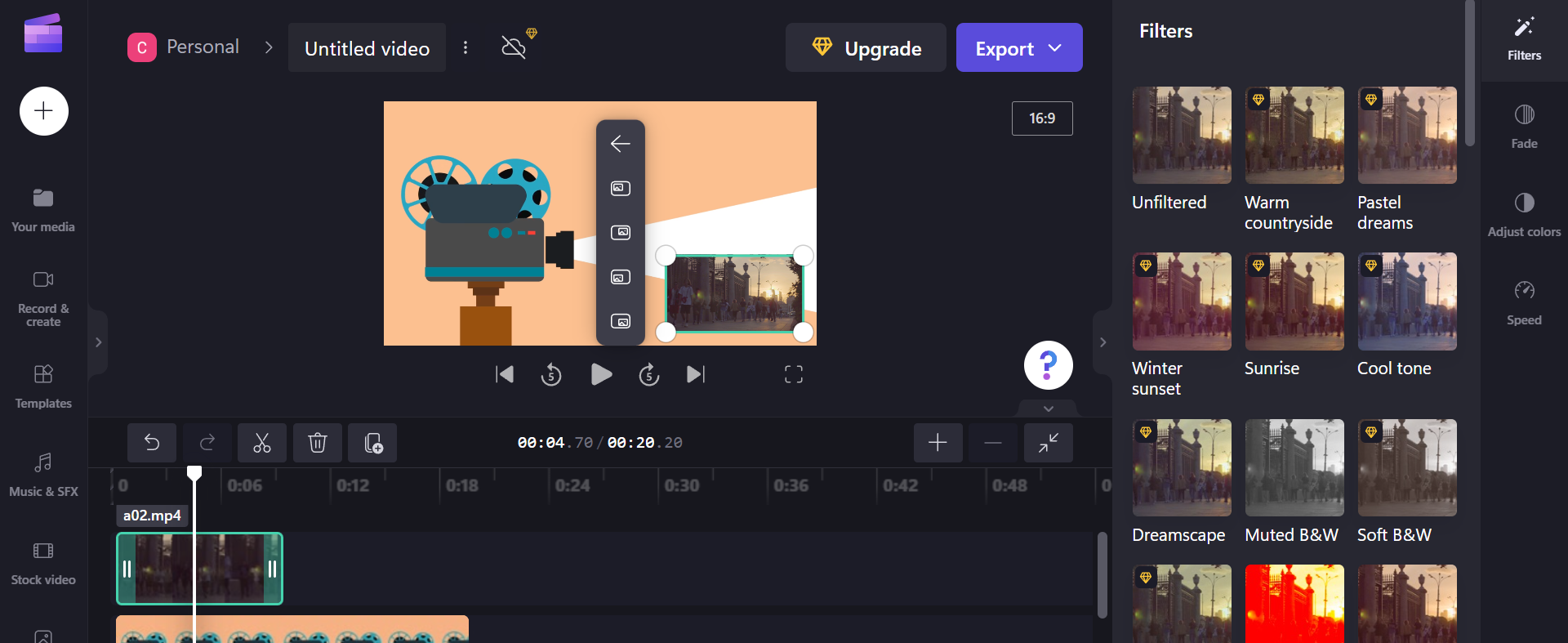 Use Picture in Picture Effect in Clipchamp
How to Make Reaction Videos on iPhone and Android
If you want to make reaction videos on your iPhone, you can also use iMovie, but you can also try TikTok. TikTok is not only a short video platform, but it also allows you to edit videos directly on it. The Reactions feature introduced in TikTok will enable you to post and share your opinions on video content directly within the app. With this feature, you can directly add reactions to the video without recording the screen. If you happen to want to make a reaction video and post it on your personal TikTok account, then this method is perfect.
Meanwhile, this method works on both Apple and Android phones. But one thing you need to pay attention to is that with TikTok's built-in react function, you can only make a video of less than a minute and then post it. For normal users, it doesn't allow videos that are of more than 60 seconds. Let's see how it works in the following:
Step 1. Play the video in TikTok, tap the Share icon, then select the React option.
Step 2. Record reactions with your phone camera and import the background music if necessary. Then adjust the location of the reaction video. Lastly, post the video if you want.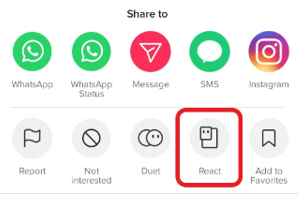 React a Video in TikTok
FAQs on Making Reaction Videos
How to Make Reaction Videos on YouTube without copyright
Since the reaction video is a recording of a personal reaction to the original video, there may be copyright issues involved with the original video. In order to avoid copyright disputes, we need to comment on and revise the original work but not copy it. It is best to tag the original author of the referenced video in your video.
How to Make Reaction Videos on TikTok
TikTok allows you to directly make reactions to the current video with your phone camera. Just select to share the video and click the React button, then you can make some comments on the video. You can do this on your mobile phone.
How to Make Reaction Videos with OBS
OBS is a free and open-source editing software for Windows, Mac, and Linux. It can also be used for video recording and live streaming and is widely used in gaming. Its operation is relatively complicated, so it is more suitable for professional live broadcasters or video editors. It allows users to open the computer's camera when recording the screen. In this way, you can make your reactions while recording the video material. Then export the video with two scenes.
Summing Up
Today's post elaborates on the specific method to make reaction videos on any device and system. Now, this type of reaction video is very popular on YouTube, TikTok, etc. It is believed that you can get a lot of views and praise if you can make charming reaction videos. The video editors above are all great candidates for creating reaction videos. Don't worry, even if you're a newbie, try them right now to become an expert in video editing.