eCommerce has given small businesses a new avenue to expand their reach. According to research, 20% of all retail sales come straight from the Internet. These numbers are expected to rise in the coming years.
In addition, the coronavirus pandemic has given a new impetus to the digitization of commerce. Many small businesses around the world have realized the value of being online. However, creating a dedicated online eCommerce platform for a business is more difficult than it sounds. It is important to know how to sell products online.
The easiest way to take your business online is to create an eCommerce website. An eCommerce website acts as an online extension of your store. It works similar to a shop where your customers can purchase items that will eventually be delivered to their doorstep.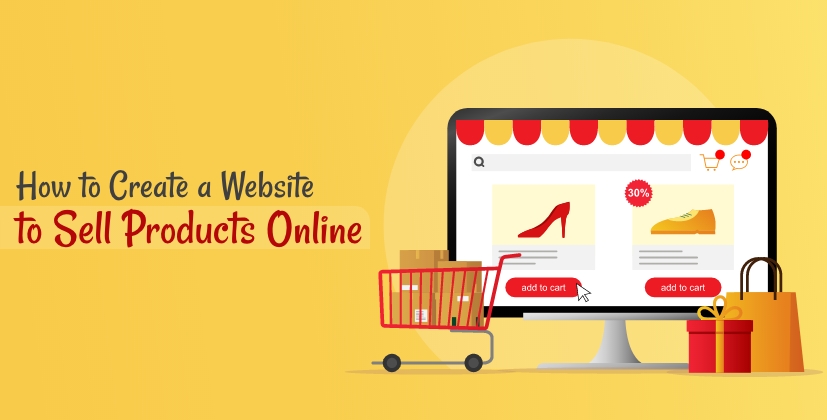 However, selling online is not just about creating a website! To help you understand how to sell online, here is a 9-step guide that will get you started on your journey to the perfect online store.
1. Create a product listing: Unlike offline stores, online stores are meant to be browsed by your customers. This is why you should be very careful when making a product listing. You need to decide which products you will sell in your online store.
Do remember that once a customer buys your product, you will need to ship it to them. Factor in shipping and packaging costs before making a detailed product listing. A product listing helps you decide the target audience, website design, and much more.
It also makes it easier for your customers to find their desired products. If you plan to be an eCommerce store that sells various types of products, creating categorizations may also help your website.
2. Identify your audiences: Once your product listing is decided on, you need to identify your audience. Every eCommerce store online appeals to a certain kind of customer. As a business, it is important that you focus on the niches that you're trying to fill.
For example, if you're going to sell anti-aging cosmetics, you need to try and market them to the elderly. To do so, you need to create a website that appeals to such audiences. For the example mentioned, a website that is simple to navigate and easy to shop on should be your focus. Your target audience will decide the design of your website and the online branding of your business.
3. Research your market: Before you begin creating a website, it is important that you research what you're getting into. Your competitors have likely already stepped into the online market. You may even find new rival businesses. Before you jump in, try and find out how the market is doing online, research your competitors, try to create a USP for your online store and its products.
You should also ask your customers what they would like to see in an online store too. Consider their feedback when you start building your eCommerce website. Once you've gone through the first two steps, start working towards pricing your products. Factor in website maintenance, shipping, packaging, and grievance redressal into your product costs.
4. Branding your business: An online eCommerce website's success is built on how well it is branded. Your brand's identity is built on your logo, website, marketing & advertising communications, and other deliberate choices.
The easiest way to begin branding your business is by summarizing what qualities you want your brand to convey. A few small sentences should begin this process. Are your products funky, fun, or are they sophisticated and classy? Your target audience should give you an idea about what you should convey.
Following this, you need to create a unique visual identity for your brand. Each popular eCommerce brand has a consistent visual identity usually decided by its colors, logos, and product imagery.
5. Building an eCommerce website: Once you've gone through Step1-4, you must start creating your dream eCommerce website. Creating a website can be difficult and expensive if you are a small business or an individual.
With how far website development has come, creating a website is very easy. For an eCommerce website, you can try out no-code eCommerce website builder software such as Appy Pie's Website Builder that can help you create your own eCommerce website without coding.
Website builders are simple, intuitive tools that let anyone create a website by simply dragging and dropping pages and features into their website. They are a great option for someone that lacks coding knowledge or doesn't have the necessary funds to outsource to other businesses.
6. Shipping: Since your website will be ready within minutes with eCommerce website builders like Appy Pie, you need to figure out other parts of your eCommerce store. If you are a business that has experience in shipping products to users, you may try to leverage that experience and expand your existing networks to meet your online demands.
Otherwise, you should get in touch with various courier and shipping services in your area. Try to cut deals that benefit you. Also, remember the costs that go into packaging your products. Customers love free shipping, so it is recommended that you try to include shipping costs within your product pricing itself.
7. Content marketing: Ideally, your website must have copywriters and content writers to create product descriptions and website content. Add attractive product images that make your products look desirable and more.
Your product descriptions should be optimized for online SEO and must be able to rank as high as possible for search engines. Sponsored guest posts and more will also help market your content to audiences.
8. Advertising: Advertising is a great way to grab a customer's attention. For an eCommerce website, advertising works great on social media websites such as Facebook, Youtube, and Instagram. You can promote your website and its products directly to your audiences. They will help funnel traffic to your websites and product pages slowly increasing their popularity.
9. Rinse/repeat: Repeat steps 7-8 each time a new product or variant of an existing product comes out. Refine your processes and keep working on your website.
Conclusion
Building an eCommerce website is easy enough with no-code tools. But Did you know that no-code tools also have inbuilt payment providers that can help your customers by giving them multiple payment options? Don't wait anymore! Build your eCommerce website today with a dedicated eCommerce website builder.