If your business does not have a group chat app, it is missing a lot of conveniences and opportunities to make decisions fast. A group chat is where the entire team in an office or business can quickly send a message that will be read by everyone included in the group.
We live in a world where people work remotely and still collaborate efficiently. However, even people in a large organization still need to use effective communication to pass a message quickly.
That said, group chats apps are must-have tools of work in a business. To compel you to incorporate one, read the insights below on how this technology boosts business collaboration.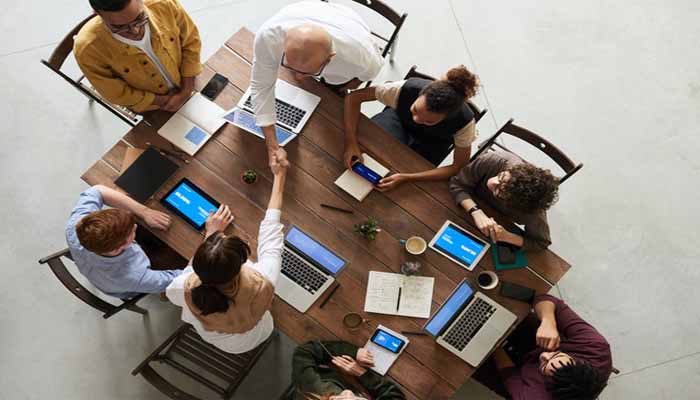 How Group Chat Apps Work
Communication enables smooth collaboration, and a group chat app brings people in the same organization, department, or office together. Once a group is created, members are added to the group through password protection for secure communication.
All added employees or clients can see what others share in the group, and they can respond or send a message that will be seen by others. Reputable and trusted apps use 256-bit SSL security to ensure that no one from outside can penetrate the app to snoop the communication.
A group chat app is downloaded on the mobile phone so that teams can communicate on the go. Reliable apps have notifications so that teams will not miss anything as long as they are connected to the internet.
Benefits of Group Chat Apps in Business
Any business that has incorporated a group chat app for collaboration can confirm the improvement in operations. While there are so many benefits, a business will mostly enjoy the following:
Fast consultation and decision making – Group chats apps are fast tools in making decisions. When someone is stuck with a project, they can easily consult the group and get answers to continue with their work. Therefore, one employee will not drag others back because they could not make a certain decision.
Easy to detect challenges and solve them – A group chat that is online help teams to know when there is a big challenge in the company or team and brainstorm for solutions. Even managers get quick help with solving some challenges when people share their thoughts on the best solutions. This makes collaboration a lot of fun.
Teamwork – Collaboration through group chats promotes teamwork. Teams move forward together when they communicate on a group chat app, share files for review, and do a lot of other things.
Time-saving – Having a group chat online saves the time it would have taken to converge a physical meeting. It is even more convenient for people working remotely who cannot meet at all. Saving during consultation increases productivity and makes collaboration smoother. The good thing is that any member can answer some queries without having to wait for a specific person, which further saves time.
Final Words
These are enough reasons for any business to have a group chat app within the operations. While choosing, make sure that it will add value to the team and promote their collaboration, whether they work in the same office or remotely.