How Can I Clone My Hard Drive for Free?
"I need to clone a disk but it seems like all cloning software, the cloning functionality is not available for free. Does anyone know any free (or free trial) disk cloning software?"
In fact, this is a question for a large number of users, and this article will introduce you to free cloning software for Windows 10, and it is also applicable to other systems, such as Windows 11. Please continue to read below.
Does Windows 10 have a free cloning tool?
This can be another question for those who want to clone a hard drive in Windows 10 for free. But I'm sorry to tell you that there is no free cloning tool for Windows 10. If you do not mind using backup and restore software, you could consider using Backup and Restore (Windows 7).
It allows you to create a system image or file backup, depending on what you want to include. And it is also able to include other non-system partitions, but you cannot restore the system partition and all the other partitions on it together. So the best way to migrate everything from one hard drive to another is using a third-party reliable disk cloning software.
Free Cloning Software for Windows 10 – AOMEI Backupper
AOMEI Backupper Standard is a free disk cloning software for Windows 10 and other systems. And you can use it to clone data disks from one to another, it can be all brands of HDDs and SSDS, such as WD, Seagate, Samsung, Crucial, etc.
By default, this free cloning software clones only used sectors of a hard drive with the Intelligent Clone method. So you can easily clone a large drive to a smaller drive with everything on it.
You can also clone hard drive sector by sector and it is useful for cloning a BitLocker encrypted disk. Please note it will include the empty sector and bad sectors (if exists).
Besides, it still supports the SSD Alignment feature, which allows you to optimize the reading and writing speed of the SSD disk as well as prolong its lifespan.
That's it. By the way, this software has an intuitive interface and easy-to-use instructions, so even novices can use it to clone hard drive without any obstacle.
Clone Windows 10 Hard Drive to New One in 4 Steps
Here you will learn how to clone Windows 10 hard drives to a new one or clone Windows 10 to SSD with the help of AOMEI Backupper Standard. Before starting, you need to make some preparations:
Prepare a new hard drive or SSD as the target disk. Insert it into the new computer and be sure you can see it on Windows Explorer. If it is not initialized, initialize it in Disk Management first.
Be sure the new hard drive or SSD is larger than the old one, and I mean the used space of between them. If not, please free up the old disk.
Backup files on the new hard drive or SSD if there are any. The cloning process will delete all the files on it during the cloning process.
Then, follow the steps below to clone Windows 10 hard drive:
Step 1. Launch this free clone software for Windows 10. Click the Clone tab and then choose Disk Clone.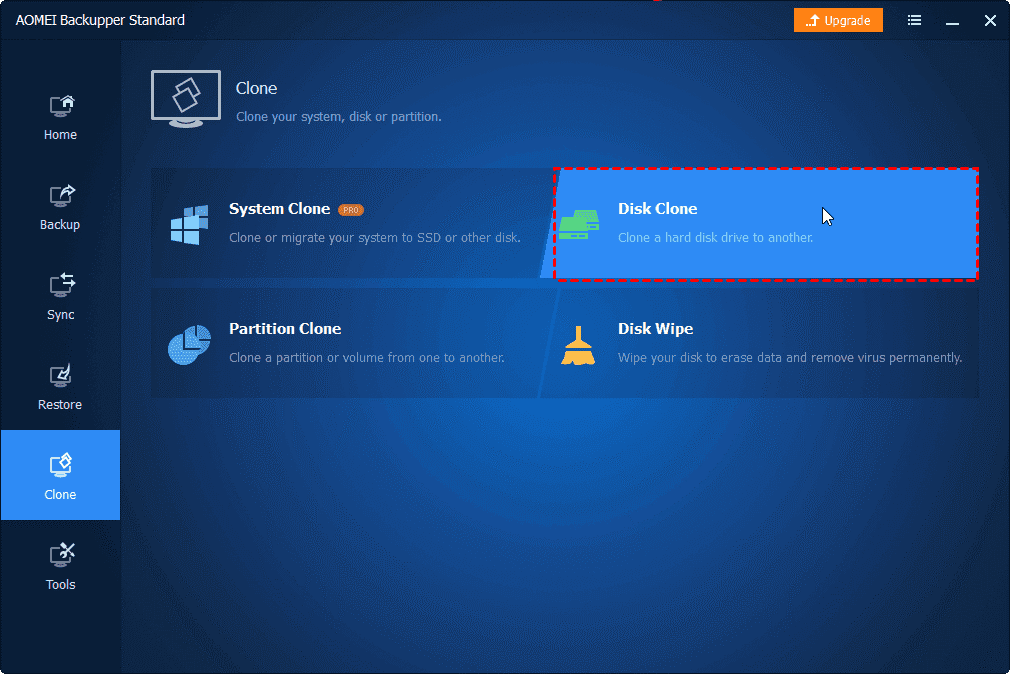 Step 2. Select your hard drive in Windows 10 as the source disk. Then click Next.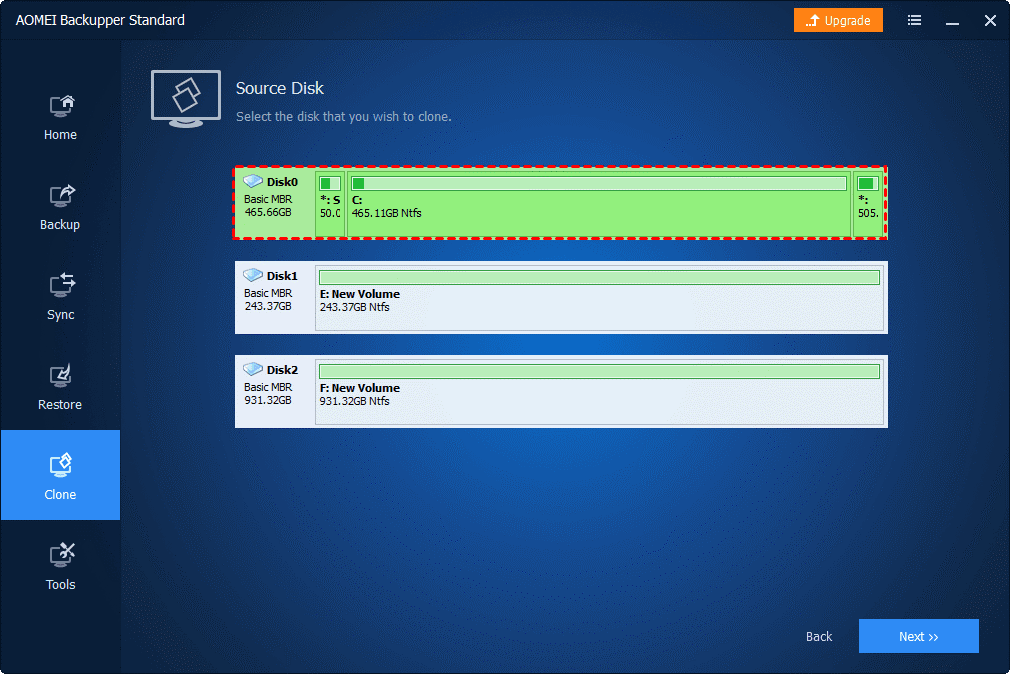 Step 3. Choose your new HDD or SSD as the destination disk and click Next.
Step 4. In this interface, you can have a preview of the source and destination disk. If your destination disk is an SSD, tick SSD Alignment to improve its performance. Then, click Start Clone to clone the disk with free cloning software for Windows 10.
Notes:
Sector By Sector Clone: Cloning all sectors of a disk whether it is used or not. It requires a larger target disk and takes longer.
Edit Partitions: Adjust the partition size of the target disk or convert the disk type, from MBR to GPT or vice versa. You can choose "Copy without resizing partitions", "Add unused space to all partitions", or "Manually adjust partition size".
If you want to clone a hard disk with Windows installed, please upgrade to the Professional version of AOMEI Backupper and try Disk Clone on it. If you have enough budget, you could consider using NVMe as a boot drive.
Summary
You can easily clone a hard drive or SSD with the help of free cloning software windows 10 – AOMEI Backupper Standard. It allows you to clone all the data disks, even smaller ones, as long as the used space of the old disk is smaller than or equal to the new one. Besides, it is still an excellent bare metal backup software to help you create a backup image for another computer and then you can perform dissimilar hardware restore on the new computer and get it back quickly.