Driver Booster 10 is a multipurpose driver updater program developed by IObit, a software provider of computer security and maintenance. Driver Booster 10 provides a robust driver update capability, and a variety of free online tools are available to test your computer's functionality, including sound, microphone, internet speed, and webcam.
In the paragraph below, we'll discuss driver management features of the Free and Pro editions.
Driver Booster 10 Free
Update Drivers
The key function of Driver Booster 10 is to help users update and manage driver software for their computers, components, peripherals, and other devices. This program can fix outdated drivers as well as ones that are mismatched or missing.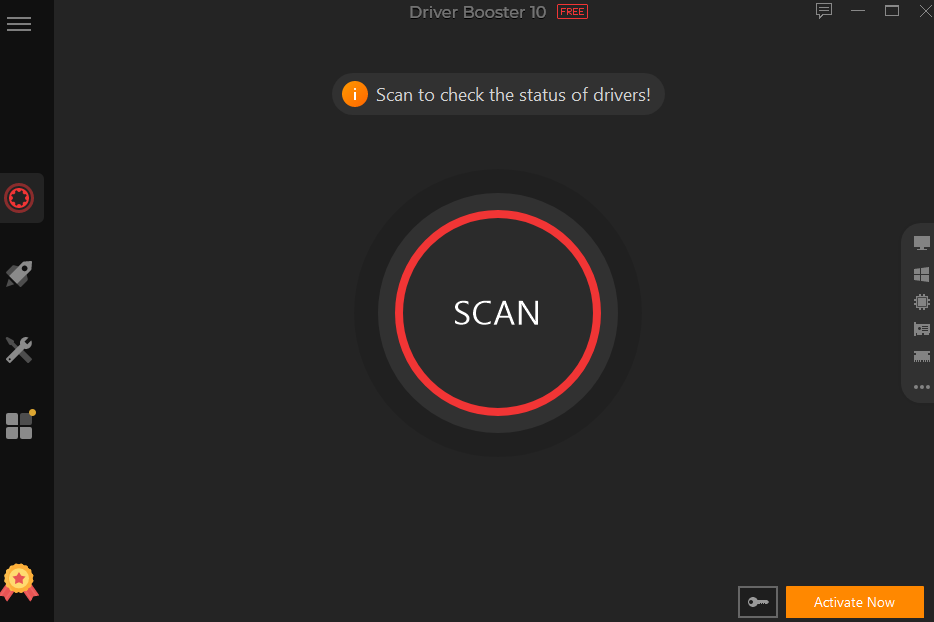 Driver Booster 10 Free competes with almost all free products and offers a large database of over 6.5 million drivers. The tool has a simple and user-friendly interface and can do scans for out-of-date drivers extremely quickly, in just a few seconds.
All of these drivers are certified by Microsoft WHQL and IObit and come from the websites of their individual original makers. You can rest assured that you won't be downloading malicious software or pointless files thanks to this.
Fix Problems
Driver Booster 10 is Free a program that does more than just update drivers. It can also be used to scan for and resolve any driver-related problems with sound, network, or displays. Additionally, there is a tool for cleaning out unwanted drivers to make room and lower security threats. Additionally, you can check comprehensive device details or apply full Windows updates.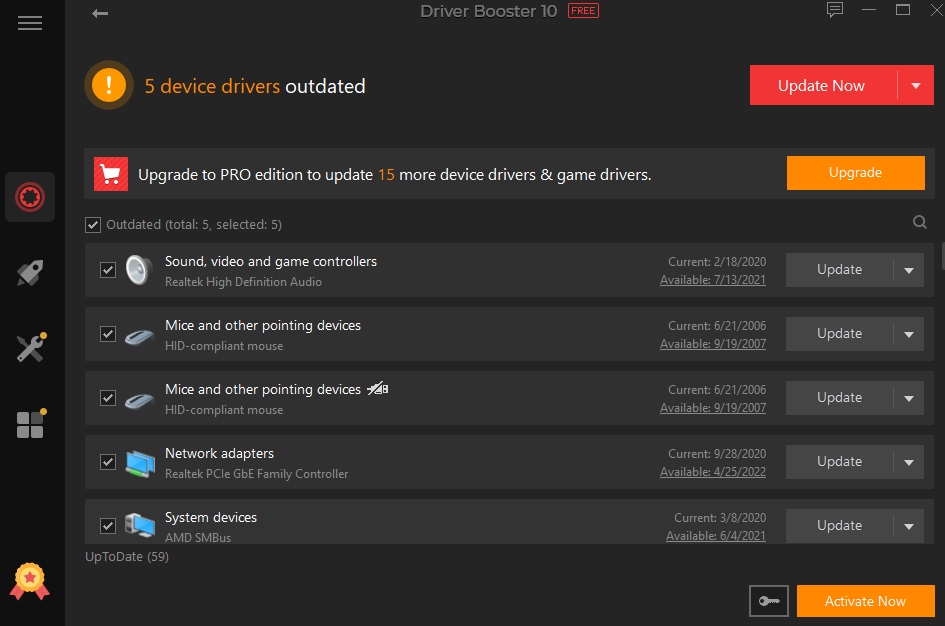 Driver Booster 10 Pro
Update Drivers
The Pro edition offers all the benefits of the Free plan along with some extras like driver backup and restores, more effective driver error checking, automated driver updating, and round-the-clock technical help.
PC game players can benefit from Game Boost to free up system resources and stop unneeded background activities to enhance game performance. Additionally, it can prioritize updating outdated game and driver components.
A larger database in Driver Booster 10 Pro can support 8.5 million safe drivers and game components. As a result, you should be able to resolve a wider range of potential hardware and software setup problems. Additionally, it makes it simpler to upgrade all drivers to the most recent version.
If you run into a network driver problem and are unable to connect to the internet, Driver Booster 10 Pro also lets you download drivers and access them offline with its optimized Offline Driver Update feature.
Fix Problems
Driver updates and backups can be performed automatically with the Pro edition. It's especially helpful if your system crashes down as a result of an automated update or if you have network-related driver problems. Driver Booster 10 Pro will automatically delete outdated driver packages and replace them with the most recent ones.
The Pro edition includes additional intelligent issue prioritization and the drivers with the biggest effects on your system will be updated first.
Pricing Plans
For up to three devices, the cost is $22.95 annually; for one device, the cost is $19.95 annually. Both plans provide a 60-day money-back guarantee, allowing you to test the program and decide whether you still need it.
Customer Service
Despite the limited customer assistance offered by Driver Booster 10 Free, you can still get in touch with the support staff to report bugs or offer suggestions. Additionally, there is a forum where you can ask for help from other users or any technical support employees. From the official websites, you can quickly get all the papers, including user manuals, FAQs, and common problems.
Customers of Driver Booster 10 Pro, on the other hand, get access to specialized 24/7 technical support with far faster and more reliable response times.
Wrap Up
Driver Booster 10 is one of the best-performing driver update programs available for free use. And for users looking for an advanced driver update feature, but have a limited budget looking, Driver Booster 10 Pro is also a good choice.
With additional features and services like a game boost, updating game files, and offline driver updates, Driver Booster 10 beats the majority of the competition.
FAQs
Q1: How effective is Driver Booster 10?
Driver Booster 10 is one of the top-performing driver utility tools in the market and it provides a database to support update 8.5 million drivers from almost all driver manufacturers. It succeeds in its claims and offers extras like an offline driver updater and a game booster.
Q2: How safe is Driver Booster 10?
All drivers have passed the official IObit and Microsoft WHQL testing to ensure safe driver usage. Any changes you make can always be undone to ensure a secure driver update.
Q3: Do you really use Driver Booster 10 for free?
Yes, Driver Booster 10's Free edition is available for permanent use. It does not limit you in any other way, but it does have fewer features and a smaller driver database than the Pro edition.