Best media streaming devices for your TV in 2021. You have made the choice to immerse yourself in the world of TV streaming, and now you need a streaming media device. We compared the top-rated streaming devices to find out which one is your best option for watching live channels, shows, and movies on your television.
A lot of people would be happy to use a cable box to watch daily TV programs. Movies, sports, music, are all there, but scheduling remains the biggest challenge with this manner of viewing content. When you tune in, you need to tune in at the right time or watch whatever is playing.
However, many are now preferring smartphones or tablets to view video content. With streaming apps on your smartphone, you can watch the video content you want. The biggest problem with that, however, is the screen, which is too small and does not provide a great viewing experience.
This is where you feel the significance of the Streaming device. This compact device can get you free or premium video content on your demand. These devices just need an internet connection and power to work. You can plug this device into any TV smart or nonsmart.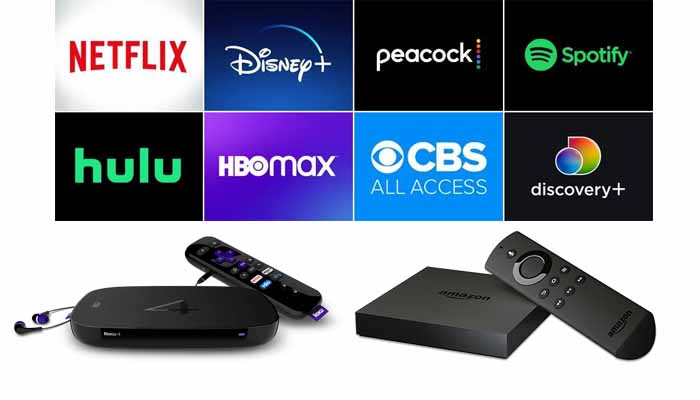 Best Media Streaming Devices For TV
This list will help you find the best streaming device that is affordable and provides topmost streaming experience.
Google Chromecast
Google Chromecast is developed by Google. It is one of the best streaming devices available on the market. It is a compact and powerful device that can stream 4K and HDR content. This is the most affordable streaming device starting at $29 only. Chromecast is compatible with thousands of different apps and platforms, including Hulu, Spotify, CBS, HBO, Netflix, Google Play, and more!
Features of Google Chromecast:
Stream from Android and iPhone
Google voice assistant
Roku
The Roku is a streaming device that is compact but efficient. It comes with a small and sleek box that quickly connects with your television. This Roku streaming device promises more powerful HD streaming. It gives you access to over 1 million movies and TV shows. It also provides the live sports streaming of just about any game you can think of. Here's the complete guide on how to watch live sports on Roku.
It packs a quad-core processor, has excellent picture quality, and launches channels faster than ever before. It offers an upgraded voice remote with personal shortcut keys, TV settings, remote finder, and premium JBL headphones. It's easy to find the right Roku device for you, from budget-friendly streamers to 4K Ultra HD smart TVs. Roku player's price starts at $29.99.
Features of Roku
Easy to use with a simple setup
Supports 4K video
Amazon Fire TV
Amazon Fire TV brings your HDTV to a world of online entertainment, enabling you to stream over 600,000 movies and TV shows. Your Alexa Voice Remote can easily find, launch, and control content. This might be the ideal streaming device for you if you are already an Amazon customer. Larger numbers of channels can be streamed, including Prime Video and all the streaming services you like. Amazon Fire TV price starts at $39.
Features of Amazon Fire TV
Fire TV supports 4K Ultra HD
Alexa remote
Conclusion
Ultimately, every device here is a great choice for bringing online content to your TV.