Apple Pencil is a top-notch stylus that was introduced in 2015 alongside the iPad Pro. The digital pen offers pixel-perfect precision and remarkable pressure sensitivity, making drawing, sketching, and note-taking a pleasurable experience. It's no surprise that both professionals and students hold the pen in high regard. However, the only drawback is the exorbitant price tag. The first-generation Apple Pencil costs 8500 INR, while the second-generation model costs 10900 INR. But don't worry, since this is where our best affordable 3 Apple Pencil alternatives come into play.
Top Apple Pencil Alternatives
1. Robustrion Active Stylus with Palm Rejection priced at 1999 INR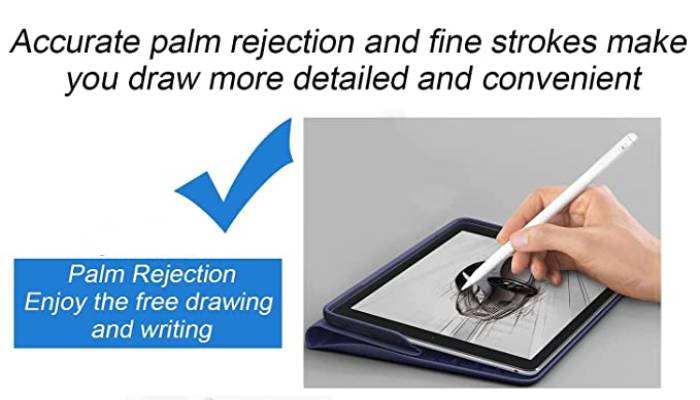 Robustrion Active Stylus with Palm Rejection and Tilt Sensor Pencil is compatible with Apple iPad 6th 7th 8th 9th Generation 10.2 inch / Pro 11 inch / Pro 12.9 inch / Air 3 / Air 4 10.9 inches. The stylus pen is pressure and tilts sensitive, allowing you to easily create Subtle Shading, Adjust Line Width, And Be More Creative On Your iPad. The Stylus is activated by pressing one button. There is no requirement for a USB or Bluetooth connection. The 1.2mm fine tip allows for precise drawing. The Stylus provides 8 hours of continuous work time and 30 days of standby time with only 40 minutes of charging time. To conserve battery life, the stylus would turn off automatically after 30 minutes of inactivity. Palm Rejection Technology is included in this Pencil Stylus, allowing you to rest your palm completely on the screen while drawing. 1 extra tip is provided in the package.
2. Tukzer Stylus Pen for iPad with Palm Rejection priced at 2299 INR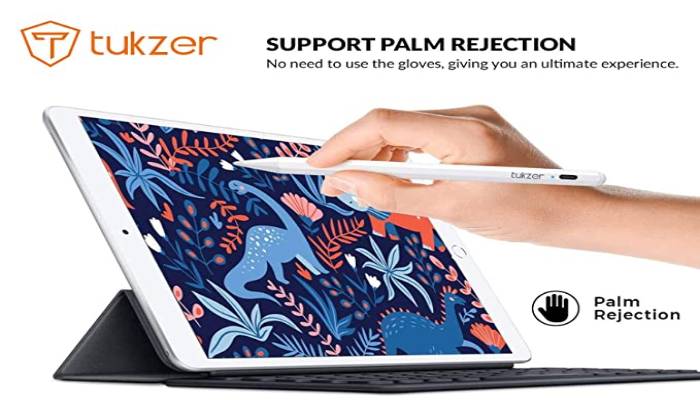 Tukzer Stylus Pen for iPad with Palm Rejection, Tilt Sensor, 2nd Gen Compatible for (2018-2021) iPad 6/ 7/ 8/ 9th Gen; iPad 10.2″, Pro 11/12.9″, Mini 5/6th, Air 3/4th Gen, precise for Writing/Drawing. With the upgraded iPad stylus pencil with palm-rejection technology, you may easily lay your hand on the screen when writing or sketching, and you won't need to wear the anti-friction glove. The pen tip on the stylus is 1.0mm POM. Higher precision, sensitivity, and natural fluidity for writing and drawing seamlessly, just like a traditional pencil. There is almost little lag time, and your screen will not get scratched.
3. KINGONE Upgraded Stylus Pen with Palm Rejection priced at 2159 INR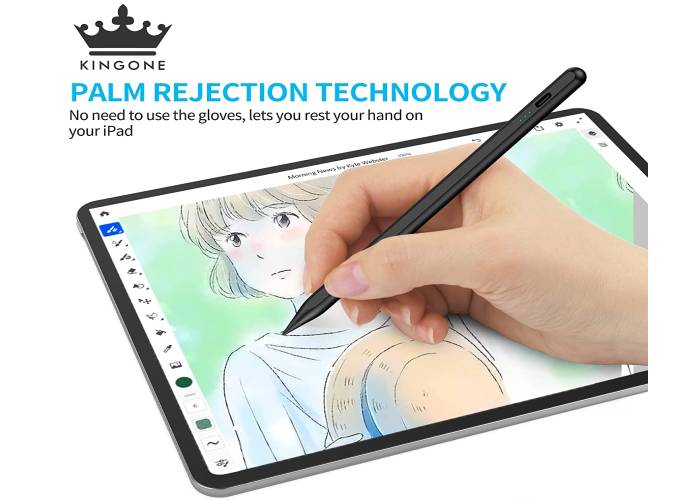 KINGONE Upgraded Stylus Pen provides Ultra High Precision & Sensitivity, Palm Rejection, Prevents False ON/OFF Touch, Power Display, Tilt Sensitivity, Magnetic Adsorption For iPad 2018 and Later. When compared to a standard pen, the Kingone iPad Stylus Pen has improved accuracy, sensitivity, and durability, as well as precise point control writing, no scratches on the screen, no delay, higher sensitivity, no resistance, and is more comfortable in your hand. With palm rejection, you can comfortably place your hand on the screen when drawing or writing; there's no need to wear gloves for more efficient writing or drawing, which is ideal for people who take notes or draw images on their iPad for extended periods of time! The LED power display function on the Kingone digital pencil has been improved. In comparison to the previous pen, this new function allows you to see how much power is left and will automatically switch to "Sleep Mode" after 5 minutes of inactivity to preserve power. The stylus can also work for up to 10 hours at a time and has a standby time of 180 days for around 1 hour per charge. It supports USB-C charging.