More than ever, people find themselves working from their homes rather than a traditional office.
The pandemic forced many companies to incorporate work from home into their typical procedures. As it turns out, employees loved it.
The flexibility and lack of lengthy and tedious commuting made work from home a big hit with many workers, leading to a push to keep remote work in place even post-pandemic.
Additionally, there's been a sharp rise in remote small business formation.
When the massive unemployment resulting from the pandemic hit, the newly unemployed started launching startups to replace their prior income.
The majority of these startups operate entirely online, leveraging things like social media marketing and online shopping platforms to successfully grow without ever opening a physical location.
All of this is to say, remote work is extremely widespread.
Unfortunately, the relative newness of remote work means many aren't making the most of their work setups.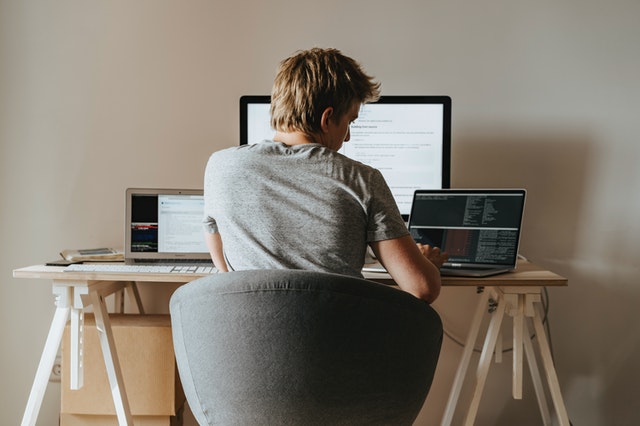 Luckily there are a few easy things you can do to make your work more enjoyable and effective. Here are 3 tips to help you get the most out of your remote work.
1: Upgrade Your Home Office
If you're going to be working from home, you should invest in creating an empowering and comfortable workspace.
Don't settle for your couch and coffee table. Instead, create an actual office for yourself where you can concentrate and feel professional.
Giving yourself access to a desk and a dedicated workspace will make your work easier to accomplish, as you'll have all your materials gathered in one place.
Additionally, having a dedicated workspace helps keep your work from spilling over into the rest of your life. We'll talk more about that later, but for now, just know that's a good thing.
If you're concerned about money, know that there are plenty of affordable ways to get office furniture. Platforms like Craigslist or Facebook marketplace often have desks available for cheap, sometimes even for free.
Keep an eye on these platforms for deals and you can furnish your home office in an extremely affordable manner.
2: Switch Up the Scenery
Home offices aren't everything though. While having a home office is great, sometimes you just need to get out of the house.
Luckily, remote work means you have tons of flexibility. In most cases, you can work from anywhere with WiFi.
When you're feeling stagnant or uninspired, don't be afraid to get out of the house. Go work from your local coffee shop or library for the day.
Often this change of pace can help you stay enthusiastic about your work and keep you from burning out from repetition and monotony.
3: Don't Mix Work and Home Life
Finally, don't let work sink into the rest of your life.
When you work remotely, it's easy to lose sight of the line between work and personal time. When that happens, you can wind up feeling anxious, stressed, and exhausted.
To avoid this, set clear boundaries with yourself about work. Decide on a daily work schedule and don't work past it.
It's also a good idea to dedicate a specific space in your home for work-related activities. Keep your work confined to that area so you don't associate your relaxation space with work.
Doing this will keep you sane and ensure your stress levels stay low over time.
Conclusion
Remote work has a ton of wonderful benefits. It gives you flexibility and can help you make your work more enjoyable.
That said, making the most of remote work requires a bit of forethought. Follow the tips above and you'll make your work sustainable and engaging, regardless of where you choose to set up.