Today there are countless free email services available online. Some are tailored to business and privacy requirements. Others are meant to be part of all of your social media accounts and personal connections.
Therefore analyzing the best email services available and making a choice that suits your needs is just important. Many people are completely frustrated and angry regarding the current e-mail service provider they are currently using. But lack of knowledge keeps them using one or two free email services.
Whether for business or personal reasons, lots of people rely heavily on emails to deal with other people or organizations nowadays. And for these emails to be sent, it is important to find reliable email providers. So, if you want to open an email address and send electronic messages for free, here are the best 10 free email providers you should consider.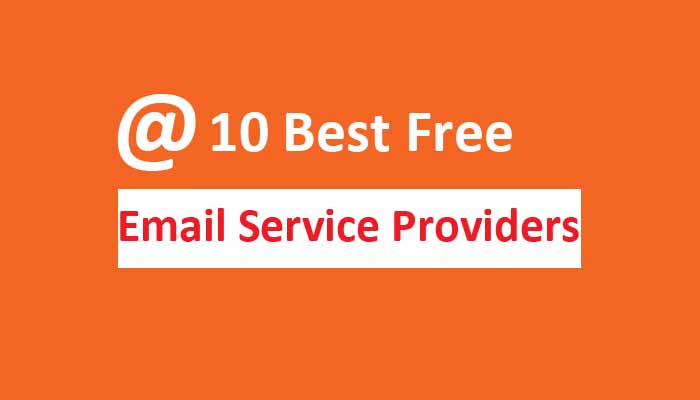 Top 10 Free Email Service Providers
Gmail
Yahoo Mail
Outlook Mail
Zoho Mail
AOL Mail
Yandex Mail
Mail.com
Proton Mail
GMX Mail
iCloud Mail
1. Gmail:
Gmail is arguably the best and most popular email provider in the world. This provider was introduced by Google in 2004 and has continued to serve hundreds of millions of individuals over the years. This platform offers several features that make it be one of the favorites of many individuals that are looking for free email services.
Foremost, Gmail's web interface boasts of having a stripped-back feature that ensures that you do not have difficulty with sending and receiving emails. The interface ensures that the messages are organized beautifully and clearly so that you don't have to navigate around before knowing the next action to take.
Furthermore, Gmail comes with an auto filter capability that groups your messages based on their order of importance and other factors. Some of the basic categories are Primary, Promotions, and Social. Also, you have 15GB free storage space for keeping your messages, photos, and other content.
2. Yahoo Mail:
Next on the list is Yahoo Mail. Known as one of the first email providers that are still functional today, Yahoo Mail beats most other free email providers by offering 1 TB of storage space. In addition, this email provider provides a great spam filter system that allows you to get rid of messages that are not important. Its interface is equally easy to use; thus, you can easily find any documents, videos, and images that have been sent to you.
Similarly, Yahoo Mail gives its users the opportunity to quickly and seamlessly import contacts from their Facebook, Outlook or Gmail accounts.
Also, contact importation from any files is possible. If you have any particular email address that you want to block from sending you a message, this email provider makes it possible. Although you may have to deal with inbox ads as you use this free service, Yahoo Mail provides so many benefits that are worthwhile.
3. Outlook Mail:
Outlook Mail is another awesome free email provider that has a great interface that users can use without any previous experience. Notably, this email provider is from Microsoft and comes with tons of amazing benefits. One of these benefits is that you can recover lost or deleted messages without the need for any additional software. With the help of this provider, you can organize your emails automatically so that you can navigate with ease.
What's more, this email provider has a mobile app that can work for android devices as well as iPhones and iPad. Furthermore, Outlook Mail provides outstanding supports for different add-ins. In other words, you can add other tools to your mail. Also, you can integrate the Outlook calendar and Skype into your Outlook Mail account for a better experience. While this provider has some paid plans, its free email service that will take care of your personal needs.
4. Zoho Mail:
Although Zoho Mail may not be as popular as Gmail or Yahoo Mail, it actually offers unique features that make it compete favorably with those popular ones. Zoho can be used for personal reasons but it is mostly suitable for small businesses. Its free plan enables you to host as much as 25 free users and integrate your works with document management, office suite, and several other exceptional tools. Likewise, you get 5GB of free data storage when you join this email provider.
Apart from the features mentioned above, Zoho also provides you with some special features that make it easy for you to organize your electronic messages. These features include tags, smart searches, folders, and filters.
Zoho makes it possible for you to read and send messages even when you are offline. This one particular feature makes Zoho stand out among its competitions.
5. AOL Mail:
Also known as AIM Mail, AOL Mail is currently the property of Verizon and delivers top-notch email services to all and sundry. This free email service provider offers you several themes; hence, you are fully in control of determining how your mail will look like. This is also made possible by the various settings of this provider that allows you to personalize everything to suit your particular taste and needs.
Due to the focus on this provider on security, it boasts of having certain virus protection. That is, it will scan your new messages to see if they have malicious content or not. In addition, if you send a message by mistake, AOL makes it possible for you to undo it. However, this feature is only available for emails you have sent to other email addresses provided by AOL. Other extra features of AOL you can take note of include spell-check and in-browser sound notification.
6. Yandex Mail:
While Yandex may not be so popular in other countries, it is one of the biggest email providers in Russia. This email provider has been serving people all around the world since 2001 and its excellent features are worth considering. Firstly, there is hardly any other free email provider that has as many security features as Yandex Mail. This is because this email service provider protects you against fraud, spam, and other malicious materials and activities. It also comes with an integrated anti-virus. Similarly, its spam protection will filter your emails and notify you only when you have emails from real persons or businesses.
This tool also gives you 10GB of cloud storage space after you have signed up. Likewise, it has a feature that you can use to create a to-do list from your emails. The additional features of Yandex Mail include fingerprint and PIN log-in and in-built language translator.
7. Mail.com:
Mail.com also gives its users free email solutions. Most other free email providers will have one or two default domain names to select but this provider presents you with several options. In other words, you will get a long list of about 200 domain names and select the one you want. It offers you some kinds of customization options that are not available on most other free email service providers.
Mail.com also has mobile apps that are compatible with Android devices, iPhones and iPads. It has some features that are designed to protect you against any threats on the internet. These security features include Spam blocker and virus protection.
It is worthwhile to note that Mail.com presents you with an unlimited storage space even without paying a dime. Similarly, you get an online storage space for free. And if you want to export and import certain data, you can easily do so as long as they are in CVS and ICS formats.
8. Proton Mail:
Privacy and security are undoubtedly the primary focus of Proton Mail and this is reflected in its main features. Unlike other providers that will require some personal information such as names, phone numbers and alternative emails, Proton Mail does not receive such information from you. In fact, anonymous signing up is possible with this email service provider. Once you sign up for an account on Proton Mail, you will enjoy end-to-end encryption for your emails. This means that only authorized parties can view the content of the message.
The services of Proton Mail are secure and fast; hence, you rest assured of having a great experience when sending or receiving emails through it. You get a free storage space that is worth 500MB. Nevertheless, if you want to send bulk emails to people, Proton Mail may not be your best option because it limits its daily messages to just 150.
9. GMX Mail:
GMX is one of the fantastic free email service providers that are great for both professional and personal purposes. Using this service, you can determine the time you want your messages to be deleted from your inbox. This particular feature helps you manage your email messages automatically. Also, you get astounding features that ease the process of sharing different files with other users.
The maximum file size that you can attach with an email on GMX is 50 MB. While this may look small, it is actually bigger than what you get from Outlook and Gmail. GMX Mail affords you the opportunity to manage several email accounts on the same device. You also get an online storage space that is worth 2 GB at no charge. Extra features of GMX include free online calendar, top-quality support service, online file attachment, and spam filtering. Overall, you will enjoy the services provided by GMX Mail.
10. iCloud Mail:
If you need an email service provider that is entirely dedicated to catering to the needs of Apple users, iCloud Mail is your topmost option. Apple established this email service provider in 2011. Signing up and setting up your account is easy. Although it is only available for Apple devices, you can receive messages from anybody irrespective of their devices. Also, you can download files sent from devices on other operating systems. With iCloud Mail, you can share files that are as large as 5GB and also get access to online storage space of about 5GB at no cost.
Using this service provider, users of Apple devices can save their music, images, and other vital documents. Moreover, it enables users to access Keynote, Numbers, Pages and other vital services and tools. Additionally, this free email service provider supports keyboard shortcuts. Again, its major drawback is that it only works on Apple devices.