Is your android smartphone getting slower day by day? Is it hanging a lot? Then you have come to the right place. In this article, I will share the top 10 Android cleaner apps that will make your phone a superphone in less than 5 minutes.
First of all, let's discuss what makes your android phone slow. Well, the most common reason is the temporary files and cache. After long usage of Android phones, a large number of temporary files related to phone software updates or apps updates get collected on your phone which makes the functioning of your phone slower. Temporary files can be deleted and don't harm your phone.
When you use an application, it begins to store files for later reference in cache memory. It saves your time and data when you use the app next time. But if the cache memory size gets bigger, your phone performance slows down. It is a good idea to clear cache memory at regular intervals.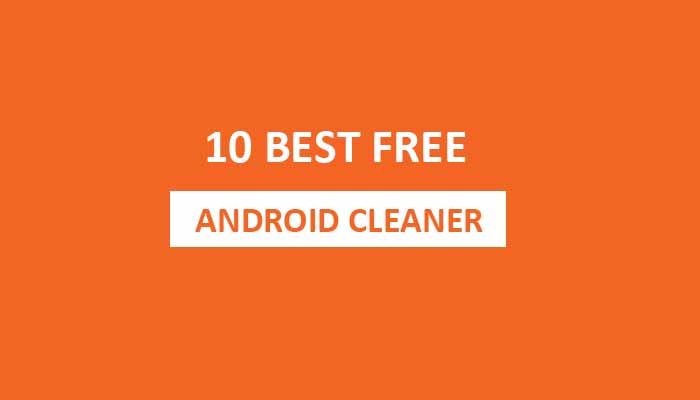 10 Best Free Cleaning Apps For Android Phone
CCleaner – Memory Cleaner, Phone Booster, Optimizer
AVG Cleaner – Junk Cleaner, Memory & RAM Booster
Avast Cleanup & Boost, Phone Cleaner, Optimizer
Fancy Booster – Cleaner, Antivirus & Speed Up
Phone Cleaner App
Clean Master Lite
Super Cleaner – Antivirus, Booster, Phone Cleaner
Fast Cleaner – Speed Booster & Cleaner
Top Cleaner – Powerful Cleaner & Max Booster
Speed Booster & Super Cleaner
1. CCleaner- Memory Cleaner, Phone Booster, Optimizer: CCleaner is brought to you by world-famous PC and Mac cleaning software maker Piriform. Become your own phone's master with the ultimate Android cleaning app.
Features of CCleaner app:
Clean application cache, temporary files, junk files
With just a few clicks, optimize your Android
Monitor the usage of your CPU
Uninstall multiple unwanted applications quickly and easily
2. AVG Cleaner- Junk Cleaner, Memory & RAM Booster: Your Android device can run faster and smoother with AVG Cleaner. Store more data, free up memory via junk cleaning and stay charged for longer. AVG Cleaner is already used by nearly 50 million people as a smart device manager & optimization tool.
Features of AVG Cleaner app:
Scan and analyze the device with just one tap
Clean your smartphone by tapping a single button
Clear the app cache, temporary data, and the leftover data
The power-saving feature helps increase the battery life of your phone
3. Avast Cleanup & Boost, Phone Cleaner, Optimizer: Avast Cleanup is a popular Android cache and junk cleaner utility. The ultimate cleaner app for freeing up storage space, accelerating performance, and increasing battery life for the phone.
Features of Avast Cleanup app:
Clear unnecessary files, such as caches, temporary files or other data, from your Android phone
Turn off phone functions that you don't frequently use
Delete duplicate, identical, old and poor quality pictures
Detect and delete applications that you no longer using
4. Fancy Booster – Cleaner, Antivirus & Speed Up: Fancy Booster is an Android antivirus, phone cleaner, and booster app that is fast, light & powerful. With just one tap it can uninstall malware, boost phone memory and clean up storage space.
Features of Fancy Booster app:
Smart junk cleaner
Boost phone memory
cache files cleaner
Remove viruses and spyware
5. Phone Cleaner App: Device booster and cleaner utility, this is a free mobile memory cleaner, junk file cleaner, RAM cleaner & booster. It optimizes memory cache space and keeps your Android devices cleaner and faster. The cleaner app tracks your device via cleaning services; it sends note of sweeping and removing junk files when the cache is full.
Features of Phone Cleaner App:
Very quick check and power clean which helps to clean apps in seconds.
Disk cleaning, device cleaner, unwanted files cleaner
Analyses the use of CPUs and avoids heavy applications for cooling CPU temperatures
Battery saver
6. Clean Master Lite: Clean Master Lite is a special lite version designed for phones with less than 1 GB of memory. It has an effective and safe cleaning engine and great accelerating system capability. This program will upgrade your phone to the best possible level with the smallest installation package.
Features of Clean Master Lite
Light and run fast with low power consumption
Free up memory (RAM) to improve your games and apps
Clean Master Lite helps to delete residual unwanted files and cache files
Check applications to protect your smartphone from viruses
7. Super Cleaner – Antivirus, Booster, Phone Cleaner: Super Cleaner is a world-class Android cleaning & boosting software with Junk File Cleaner, Virus Cleaner, Phone Booster, CPU Cooler, App Lock, and Notification Cleaner features trusted by more than 100 million worldwide users.
Features of Super Cleaner:
Junk files Cleaner
Cache files Cleaner
Phone memory booster
Virus scanner and Cleaner
8. Fast Cleaner – Speed Booster & Cleaner: Free up space and maximize performance by removing old junk and clutter files like useless APKs, residual file, and system cache, cleaning up the download directory, and more.
Features of Fast Cleaner:
Memory and Speed Booster
Advanced junk Cleaning
CPU Cooler and battery saver
Cache files cleaner
9. Top Cleaner – Powerful Cleaner & Max Booster: Top Cleaner is a free, simple, quick and powerful application for cleaning phones. Bringing the cleaner, booster, battery saver, CPU cooler, and AppLock together, Top Cleaner will keep your Android devices in good shape all day long to satisfy your phone cleaner requirements.
Features of Top Cleaner:
Clean Junk and unwanted Files
Speed Up Phone
Improve Battery Life
A CPU cooler for heating problems
10. Speed Booster & Super Cleaner: Speed booster and Super cleaner app is a memory cleaner, junk files cleaner and android RAM cleaner. It optimizes cache memory space, cleaning and optimizing your Android devices.
Features of Speed Booster and Super Cleaner App:
Boost speed and improve the performance of your device.
Stop the battery-draining process automatically to save battery power.
Stop device overheating and cool down
Detect and uninstall unwanted apps
If you find this list of android cleaner apps helpful share it with your friends.