Malwarebytes latest version free download for Windows PC. Malwarebytes Anti-Malware (MBAM) is a software used to provide security against malware, threat, and other malicious apps. MBAM is a household name when it comes to digital security. It provides a solution for Anti-Malware and possesses a variety of features for protection.
Malwarebytes Anti-Malware (MBAM) is used for finding and removing malware from Windows computers. This app, which is also known as MBAM, was launched in January 2008. It has a free version that can be used for scanning and removing malware.
The aim of this computer app is to protect all Windows users who use the internet. People such as IT staff, IT consultants and others have found MBAM as very effective for various reasons.
One of the things that make Malwarebytes Anti-Malware (MBAM) better is its ability to hunt down either zero-day or zero-hour malware. It might be difficult for traditional antivirus software to protect a computer from zero-hour malware. However, MBAM can easily do that anytime because it possesses an additional security measure. This additional security protects the user in case they encounter any malware.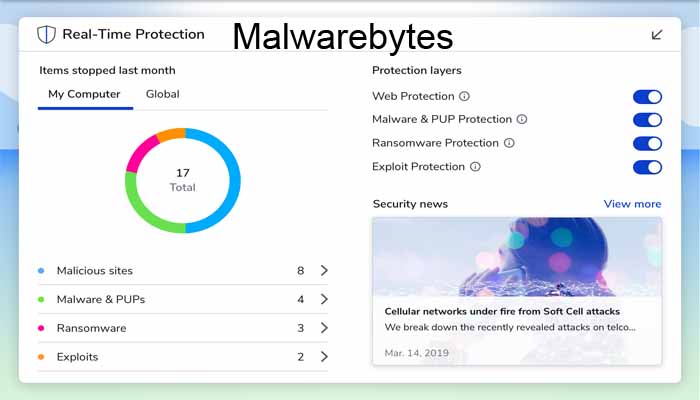 Key Features of Malwarebytes Antimalware
It is a well-known fact that MBAM possesses the ability to give specific information whenever a drive needs attention.
Malwarebytes Anti-Malware (MBAM) possesses the ability to clean an infected device.
Another important feature of MBAM is that it can block ransomware which many other similar programs cannot.
Malwarebytes Anti-Malware (MBAM) has protection tools against malware infections.
Malwarebytes Anti-Malware (MBAM) provide shields for the vulnerable system from new and unrecognized virus.
MBAM has the ability to warn the user in case of a website is infected while surfing the web.
MBAM possesses asset management which is very useful for deployment of solutions, tracking, management, and monitoring of computers.
Benefits of Malwarebytes:
Malwarebytes Anti-Malware (MBAM) protects users from advanced threats. It detects and removes viruses in real time.
Fake and infected websites are prevented from affecting your computer by MBAM. MBAM performs this by wrapping the browser and software programs against infectious attacks.
Malwarebytes Anti-Malware (MBAM) can scan much quicker than others. It is more efficient due to the Malwarebytes' Hyper Scan mode. It has a rapid inspection that targets active threats and makes analysis faster.
Malwarebytes Anti-Malware (MBAM) gives the user the opportunity to scan the computer while it is still performing other tasks.
Malwarebytes Anti-Malware (MBAM) has four (4) different layers of defense. These four layers help in handling the detection, protection, and removal of the virus. The essence of this is that a user does not need to bulk up on separate antivirus services.
Technical Specifications:
| | |
| --- | --- |
| Title | Malwarebytes Free Download |
| File Size | 1.8 MB |
| License | Free |
| Requirements | Windows 10 8 7 |
| Author | Malwarebytes |
Malwarebytes Free Download link:
Tags: Malwarebytes free download