ColorNote app download for Android. It's a great notebook app. It lets you quickly update notes, memos, emails, messages, shopping lists, and to-do lists. ColorNote Notepad makes taking notes simpler than from any other notepad application.
The text option serves as a basic word processor, allowing you to input as many phrases as you want. All of these options are available via your device's menu button after the note has been saved. You may see this on the main menu if you check off an item in a text note by placing a slash across it.- Taking a Note
Drag buttons are available in the edit mode so you may rearrange the order of items in the checklist mode. Once you've completed your list and saved it, you may toggle the line slash by checking or unchecking each item on your list with a single press. The title of the list is also slashed if all things on it have been ticked.-Making To-do List or Shopping List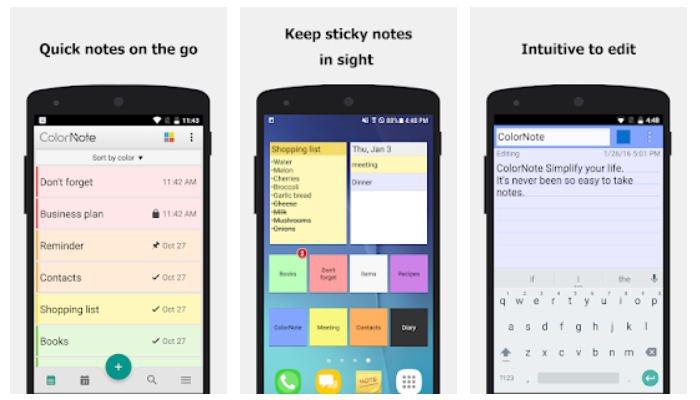 Features of ColorNote App
Use the sticky note memo widget to keep track of your notes and organize them according to color.
Checklist notes for To do list & Shopping list, and to get things done.
Create a calendar note for your schedule and a diary or journal in it.
To ensure the safety of your notes, use a password and save backups on an SD card.
Synchronize and online backup support.
Text, email, or tweet your notes.
Technical Specification
| | |
| --- | --- |
| Title | ColorNote Notepad Notes To do App For Android |
| File Size | 2.6 MB |
| License | Free |
| Requirements | Android 4.0 and up |
| Author | Notes |
ColorNote Notepad Notes To do App For Android Download Link:
Tags: Download ColorNote Notepad, ColorNote app download