Millie's Math House (1992) Game Download for Windows PC. This game was developed and published by Edmark in 1992.
With Millie's Math House, students build a foundation of fundamental math concepts and thinking skills. Through activities that feel like play, students explore numbers, shapes, sizes, quantities, patterns, sequencing, and new activities addressing measurement concepts and number sentences.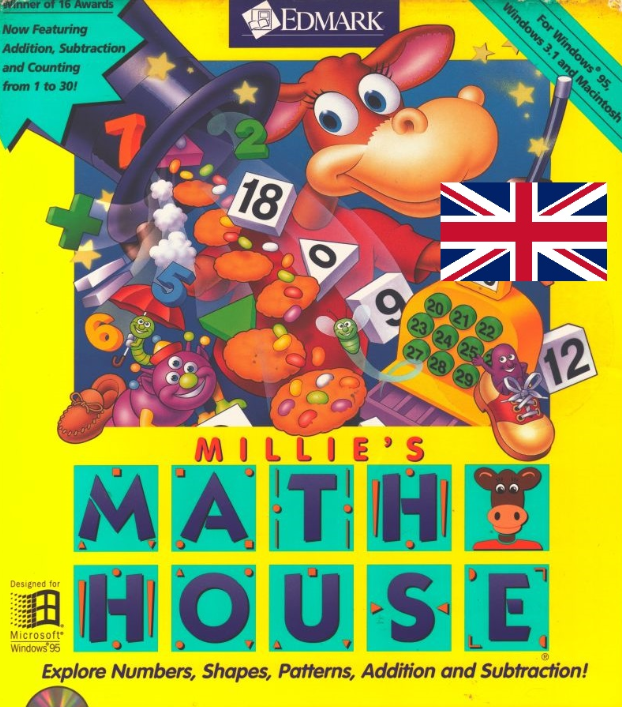 Features of Millie's Math House
Add and Subtract: Place the same number of objects on your stage as Dorothy has on hers! How many is that? You'll have to count, add, and subtract to find out!
Compare and Match Sizes: Little, Middle, and Big need shoes! Help them try on boots, high-tops, sandals, and slippers as you explore the concept of size.
See and Hear Patterns: Create, recognize, and complete patterns with Bing and Boing, the bouncing pals. As they hop on a picture, it makes a wacky sound. Record your own sounds for even more fun!
Explore Shapes: Use blueprints–or your own creativity–and learn about geometric shapes as you build a mouse house. Print and color your house, too!
Learn to Count: little critters pop up and count off when you select a number from 0 to 30 in the Number Machine.
Encourage Creativity: learn about numbers and quantity as you place from 1 to 10 rolling eyes, wagging tails, wiggling antennae, and other moving parts on a bug!
Develop Problem-Solving Skills: decorate cookies with 0 to 20 jellybeans in the Cookie Factory–and discover the sequence of events required to make a tasty treat for Harley, the horse.
Technical Specifications:
| | |
| --- | --- |
| Title | Millie's Math House Download For PC |
| File Size | 23 MB |
| License | Free |
| Requirements | Windows 10 8 7 XP |
| Author | Edmark |
Millie's Math House (1992) Game Download link: