A computer that can perform at a very high operational rate is called a Supercomputer. This kind of computer is very expensive and is only used for special applications. At first, supercomputers were designed for applications that are relating to national security, nuclear weapon design, etc. But in recent times, it is also used by other industries such as the petroleum industry among others.
A Look At The History Of Supercomputer
It is a known fact that supercomputer is very important and useful for either scientific or engineering applications that involve a large database. Historically, the first commercially built supercomputer was Control Data Corporation (CDC) in 1964. It was designed by a scientist called Seymour Cray. The first supercomputer had a single central processing unit (CPU). The supercomputer had the ability to handle three million floating-point operations at a time. Although there have been many improvements over the years, this computer served as the beginning of the various exceptional supercomputers that we have today.
In a supercomputer, the computing performance is measured in floating-point operation per second (FLOPS). It can perform billions or trillions of calculations in a second because it possesses tens of thousands of processors. Supercomputers are massive in size and they are often dedicated to more complex works.
Today, the fastest supercomputer is the Sunway TaihuLight in China. This supercomputer was developed by the National Research Center of Parallel Computer Engineering and Technology (NRCPC) of China.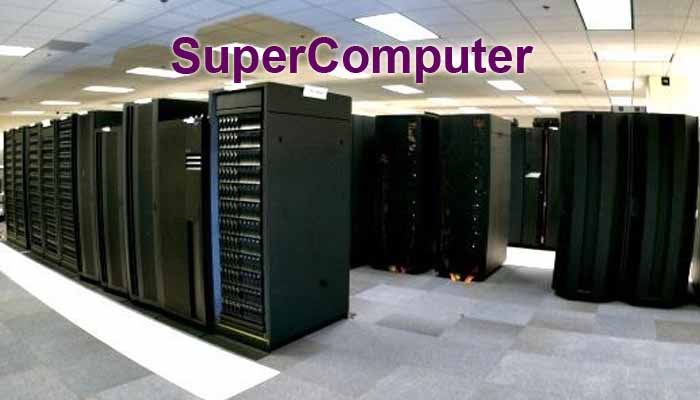 Essential Features of A SuperComputer
Supercomputers have more than one central processing unit (CPU). The CPU is loaded with instructions. Due to this, it can give interpretation to instruction and execute both logical and arithmetic operations with ease.
This kind of computer has the ability to support extremely high computation speed of CPUs.
Supercomputers have the strength to operate on pairs of lists of numbers.
Characteristics of a Supercomputer
A supercomputer has the ability to handle a massive amount of calculations which are beyond human capabilities
It can be accessible by hundreds of user at the same time
Functions of Supercomputers
Supercomputers are majorly used for scientific research and simulations such as weather forecasting, meteorology, nuclear energy research, physics, meteorology, complex animated graphics, and chemistry.
Supercomputers are used for the interpretation of new diseases, and they predict the behavior and treatment of illness.
In the military, they are used for testing new tanks, aircraft, weapons, etc
They are used for encrypting data in the military.
For testing of the impact of nuclear weapon detonation by scientists
In the entertainment industry, they are used for the creation of animation
The introductions of supercomputers have contributed to a lot of great achievements that have been seen so far. It is also a well-known fact that it will still continue to improve in its design, functionality, control and other important features that can make more industries enjoy it.