With the increasing data generated in people's daily life, the demands for cloud storage services grow generally. Different from traditional hard drives, cloud storage services are more convenient when it comes to easier access and expanding storage space, which has prompted many cloud providers in the market to launch cloud services, such as Google, Amazon, Dropbox, etc.
Different cloud drives have their own benefits and virtues, so many people take advantage of multiple cloud storage services at the same time. When you have many cloud services, do you organize your data and cloud services well? Lots of users would complain about the difficulty to manage data on different cloud services. And that's why cloud storage manager is of great importance.
What is a Cloud Storage Manager?
The cloud storage manager, literally, means a service/app/tool for cloud drive users to manage multiple cloud services in only one place. It offers a convenient platform for users to integrate different cloud services together so that users can take advantage of data on each cloud efficiently.
By using cloud storage managers, users don't need to shift accounts frequently. Also, users are able to perform many features, which is just the same as what they can perform on the official website of cloud services. There are many features that users can utilize, such as downloading, sharing, renaming, uploading, copying, moving, deleting and more.
How to Choose a Good Cloud Storage Manager
Now, you've known what a cloud storage manager is. Then what is the best cloud storage manager and how to choose the best cloud storage manager? To answer these kinds of questions, you need to know the criteria when choosing a good cloud storage manager.
The very first thing to consider if it is a good cloud storage manager is the supporting cloud services. If the service supports more cloud drives, then it's more useful. And the thing that connects to this is the number of how many cloud accounts/services that users can add to the cloud storage manager. If users can add as many as they can for free, then it's great; if not, then that would be a little inferior. Secondly, users must take advanced features into consideration. It's not enough to only allow users to perform basic features. Generally, advanced features are of great importance as well. For example, a practical cloud storage manager enables users to migrate data from one cloud to another, such as transferring, syncing, and backing up. The standard to judge if the advanced features are fine is the migration speed. Imagine that you have lots of files to transfer but the cloud storage manager just cannot accomplish the task as quickly as possible.
What is the Best Cloud Storage Manager?
After understanding how to choose a cloud storage manager, you will have some candidates. There are many popular cloud file managers in the market, such as CloudFuze, Wondershare Inclowdz, and MultCloud. Among these services, MultCloud is standing out.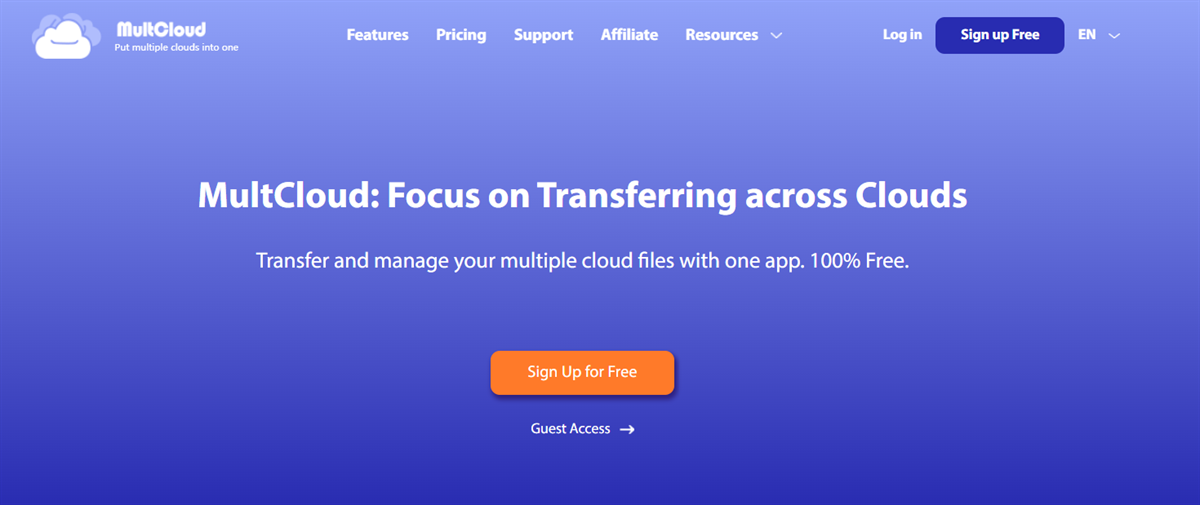 MultCloud is a famous cloud storage management service for users to manage multiple cloud drives in only one platform. It supports almost every cloud service in the market, including Google Drive, Google Photos, Google Workspace, OneDrive, OneDrive for Business, Dropbox, Dropbox Business, MEGA, Flickr, Amazon S3, Wasabi, SharePoint Online, and so on. Meanwhile, it doesn't limit how many cloud drives and accounts you can add, and it's totally free.
In addition to ordinary features, MultCloud allows you to migrate various types of files from one cloud to another easily. Also, it offers an industry-leading transfer speed. So, no matter how large your data is, MultCloud can accomplish the transferring missions as quickly as possible. For example, you are willing to transfer files from one OneDrive account to another.
On top of transferring data between cloud services, MultCloud also enables you to sync data across cloud drives. Specifically, it provides users with 9 professional sync models, such as "Move Sync", "Mirror Sync", "Cumulative Sync", "Update Sync", "Real-Time Sync", and so on. Users can choose the sync model based on their own situation. Moreover, MultCloud is an excellent cloud to cloud backup service, which allows users to back up data from one cloud to another seamlessly and efficiently. And don't worry if you find the data is missing on both cloud services, since MultCloud will restore it easily and for free.
How to use it? You can refer to the steps below:
Step 1: Register MultCloud for an account on the web for free.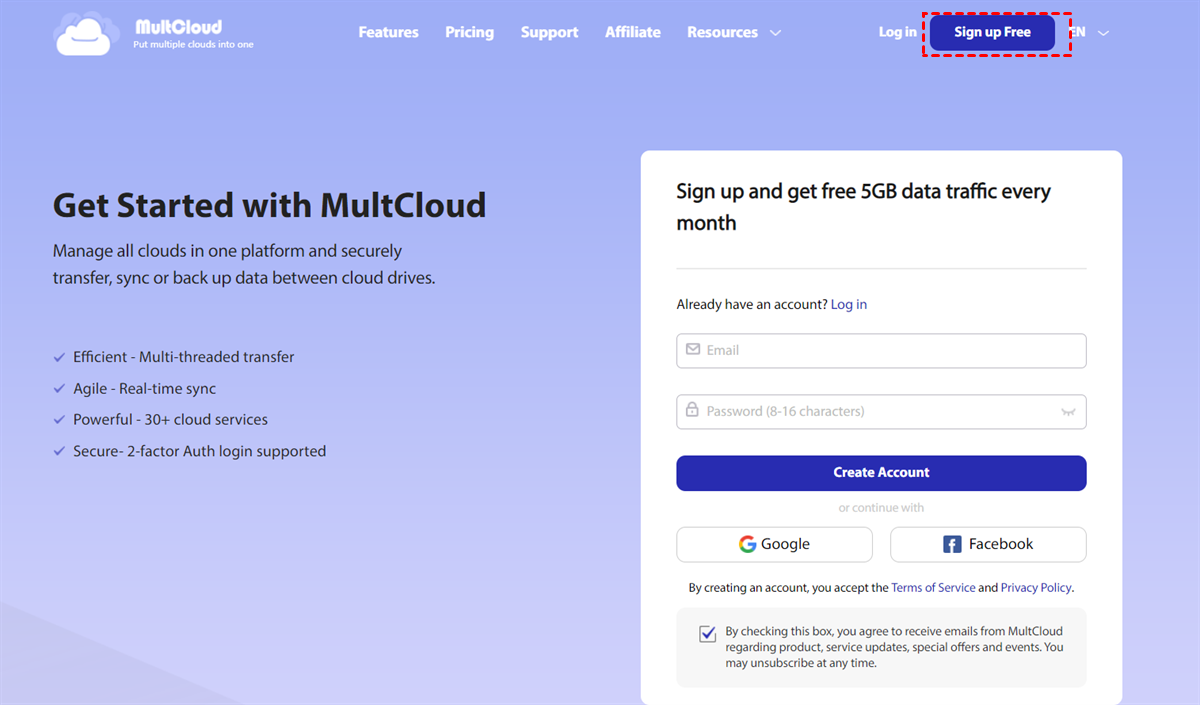 Step 2: Hit the Add Cloud button, then add the cloud services you use to MultCloud and grant MultCloud access by following the guidance on your screen.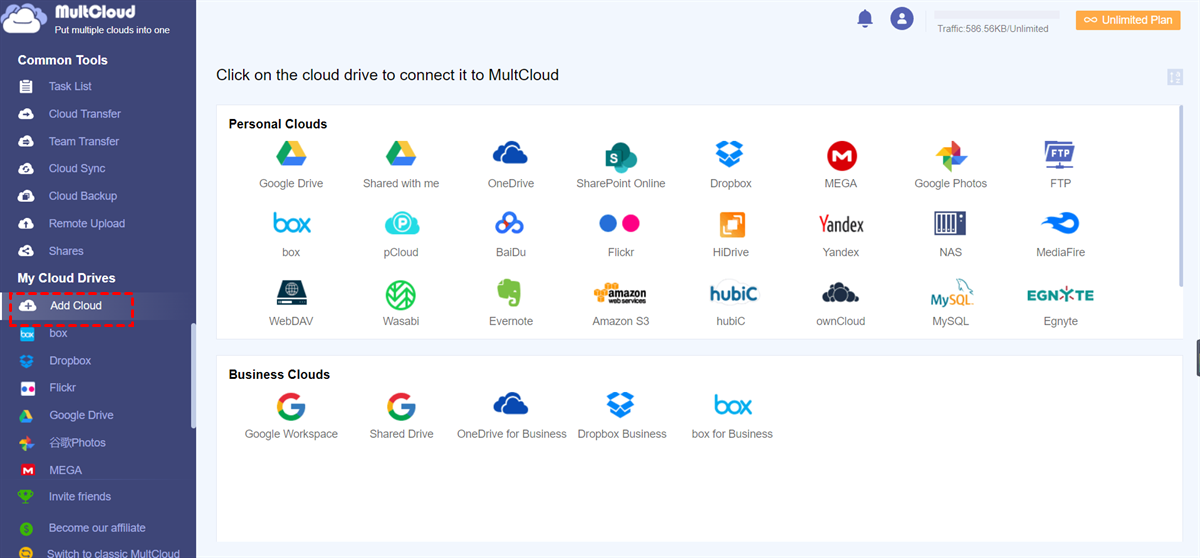 Then, if you want to perform basic features, you can go to each cloud to manage; if you want to enjoy professional features, then head to Cloud Backup, Cloud Transfer, or Cloud Sync on the left. For example, you are allowed to sync Google Photos to Google Drive.
Final Words
Anyway, MultCloud can be the best cloud storage manager for users to manage different cloud drives in one platform. Users not only are able to enjoy normal features, but also can perform advanced functions to move data between clouds effortlessly and seamlessly.