How to convert pdf to word file? For people who often need to convert PDF to Word, this article will provide you with the most valuable intelligence, this article will share two free and fast ways to convert PDF files, enabling you to deal with PDF to Word difficulties more quickly.
Why convert PDF to Word?
This is an old-fashioned question. Why do you want to convert PDF to Word? When many people are working and studying, PDF files are very convenient for viewing documents, because their layout and file content is fixed, and they cannot be modified and edited under normal circumstances. , and is good for printing. It's good for printing because it displays the same typography on most devices. If we need to convert it into Word, how to convert it? Now it is mainly converted through online website conversion and download software. The following two methods are introduced for you to convert it the fastest way.
Method 1: Microsoft Edge
Microsoft Edge is a browser that comes with the Windows system, and we can use it to open PDF files. After opening, select the PDF text with the left mouse button, copy it with the right mouse button, and then paste it into the Word text.
Basic information about Microsoft Edge:
| | |
| --- | --- |
| Name of software | Microsoft Edge |
| Developer | Microsoft |
| Software platform | Windows OS, Microsoft Hololens, macOS, Linux, iOS, Android, Harmony OS |
| Time Online | July 29, 2015 |
| Last update time | October 8, 2022 |
| Software language | Simplified Chinese, Traditional Chinese, English, French, German, Japanese, Spanish, Portuguese, Arabic, Russian |
Method 2: AbcdPDF – PDF to Word
PDF to Word is an online conversion tool on the AbcdPDF platform. Compared with most products and online conversion websites on the market, converting PDF to Word has more advantages.
Due to the special structure of PDF, most of the current conversion tools cannot achieve an accuracy of more than 70% in terms of restoration. However, PDF to Word can achieve an accuracy rate of about 80%, which is why it is mainly recommended. The second is its speed. Using AbcdPDF's PDF to Word does not require complicated login operations. You can directly upload files and wait for the platform server to perform conversion processing. Medium and small files can be converted in just a few seconds.
Steps:
Step 1: Visit the AbcdPDF.COM platform website.
Step 2: Select the PDF to Word tool.
Step 3: Select the PDF file to be converted.
Step 4: After the conversion is complete, download it locally.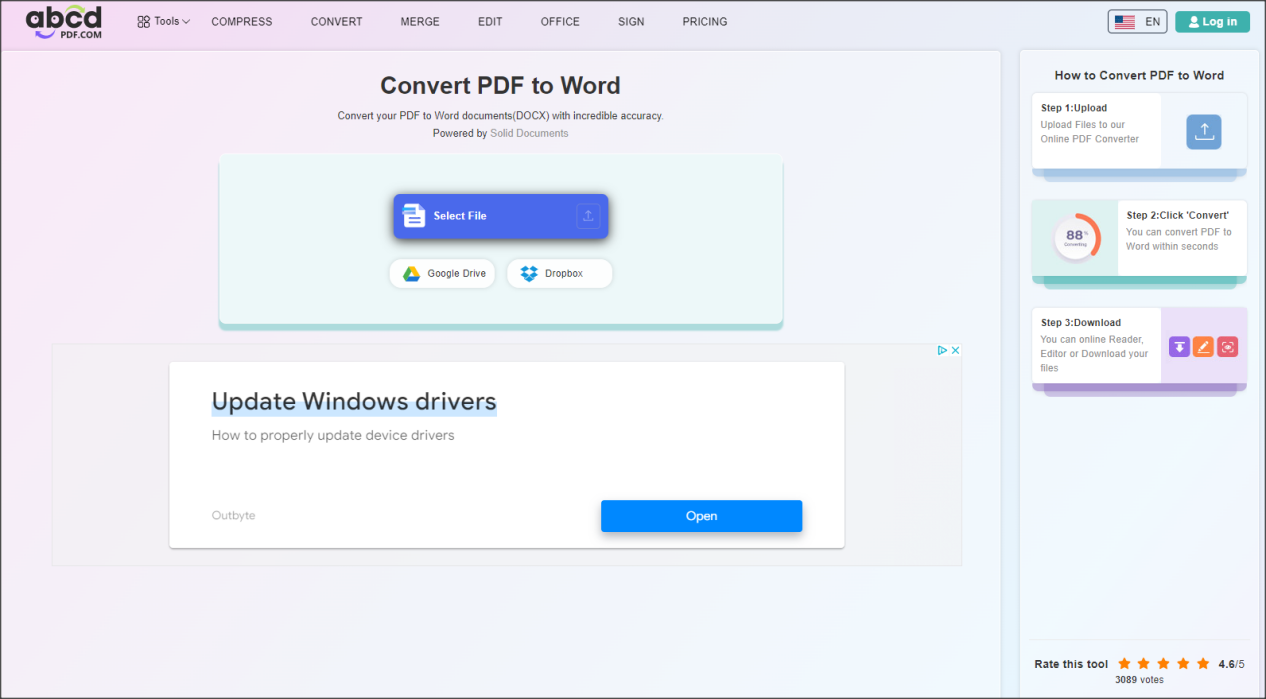 Summarize
How to convert pdf to a word file? The above introduces two methods to quickly convert PDF files to Word, and both methods are completely free and have no usage limit. In addition, Microsoft Edge can even convert offline, the disadvantage is that the conversion accuracy is mediocre. In contrast, AbcdPDF's PDF to Word has a good performance in terms of speed and accuracy and is the online conversion tool that users dream of.