Decentraland is a virtual reality blockchain-powered platform conceived in 2015. It became available to the public in February of 2020 when it launched its Alfa version. The project is the brainchild of the Argentinian duo of Esteban Ordano and Ari Meilich. They began it as a pixelated grid, but two years into its development morphed its map into an expansive 3D world.
Think of Decentraland as a sandbox game similar to Minecraft, with the difference that it has no centralized governing body deciding how things should operate in this world. The governance here is entirely up to the inhabitance of this metaverse. Meaning, all active participants have a say. This world's economy runs on MANA, a fungible ERC-20 token that enables anyone who owns it to vote on policies. MANA owners can use this token to buy plots of LAND, which are non-fungible tokens, on which they can build structures and run businesses. Below, we describe five ways you can make money in Decentraland. Naturally, in MANA tokens, which you can later convert to crypto or fiat currencies.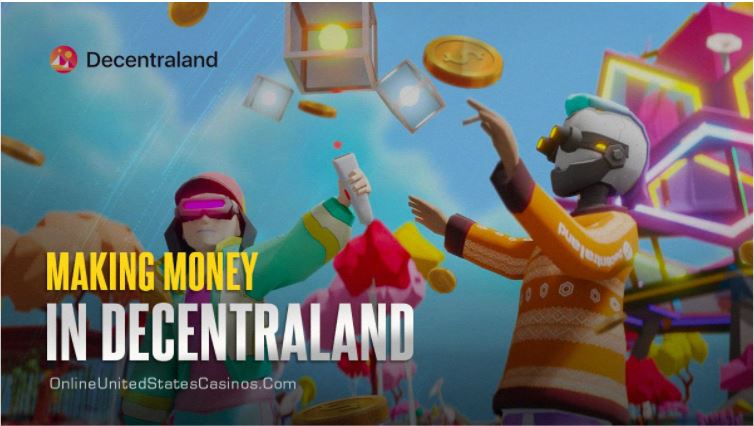 Create Digital Assets
Digital assets are a super-hot trend. Companies like Epic Games are making millions from them. Thus, everyone is looking to utilize this concept and rake in the dough associated with people's desire for customization. So, if you have any artistic talent whatsoever, you can pretty much use whatever software tools you have handy to create assets such as virtual clothing and different kinds of 3D items. You can then import them into your cloud account and attempt to sell them at the Decentraland Marketplace. That platform allows you to set your price and add an auction expiration date.
Casino-Style Gaming
At the end of April 2021, Japanese video game pioneer Atari launched the world's first-ever crypto casino in Decentraland's Vegas City. Its grand opening featured an auction of NFTs created by electronic musician Dillon Francis and inspired by his Gerald the Piñata mascot. Atari's casino got built on a piece of LAND that got leased by the Japanese company for two years, in which they aim to see how this experiment will play out. If you are a crypto gambling enthusiast, you can walk into Atari's locale and enjoy some of the most popular casino games, as well as a few innovative products. Note that as with everything in Decentraland, you can only test your luck using MANA.
Buy & Sell Real Estate
As mentioned above, buying and selling virtual real estate is all the rage in 2021. LAND in Decentraland is a non-fungible asset maintained in an Ethereum smart contract. There is a limited supply of these parcels, and each one is a sixteen by sixteen-meter square that may feature several scene limitations, depending on multiple factors. There are predefined coordinates for every LAND token in Decentraland, and each parcel has a content description file that entails the purpose that its owner wishes his LAND to serve. Multiple adjacent parcels of land can tie into an Estate, making it easier for users to manage massive LAND holdings. Everyone that owns LAND in Decentraland is free to lease or sell it as he sees fit.
Run a Business
Once someone buys LAND in Decentraland, he outright and permanently owns that parcel or parcels. Therefore, that person can decide what he wants to create on it. We already mentioned that virtual casinos are active in this metaverse, but so are multiple taverns and nightclubs. There are even museums in this virtual world. They host frequent exhibits that display works of art from both famous and anonymous digital artists. Currently, this metaverse has over thirty districts, and each one is home to different businesses. For example, the Yoga Center in the Yoga District encompasses 64 LAND parcels, and it offers yoga classes in a relaxing environment in multiple languages.
Lending & Staking MANA
Decentraland is one of many Ethereum metaverses that functions under a DAO (decentralized autonomous organization) governance model. That said, it is likely the most famous one. Its MANA prices have gone through the roof in 2021 as new features have continuously gotten introduced since its public launch. Due to its open nature, other token projects have sprung up, but MANA remains king. Investors can leverage their MANA through lending, or they can look to generate passive income via staking rewards. Staking is actively participating in transaction validation.
To Wrap Up
It is clear that there are many ways to generate revenues in Decentraland, and we assume that many more will appear soon. For now, the simplest and quickest way to turn a profit in this metaverse is through digital asset creation.
About the Author
Shelly Schiff has been working in the gambling industry since 2009, mainly on the digital side of things, employed by OnlineUnitedStatesCasinos.com. However, over her eleven-year career, Shelly has provided content for many other top interactive gaming websites. She knows all there is to know about slots and has in-depth knowledge of the most popular table games. Her golden retriever Garry occupies most of her leisure time. Though, when she can, she loves reading Jim Thompson-like crime novels.