In this tutorial, you will learn how to set up a custom domain with a blogger/BlogSpot blog. Blogger also is known as BlogSpot is a free blogging platform developed by Google. You can create beautiful blogs in Blogger but one thing that doesn't look good is the address of the blog. When you create a blog in blogger you get a free domain like yoursite.blogspot.com that doesn't look professional. To give more professional feel to your blog you must use a custom domain like yoursite.com.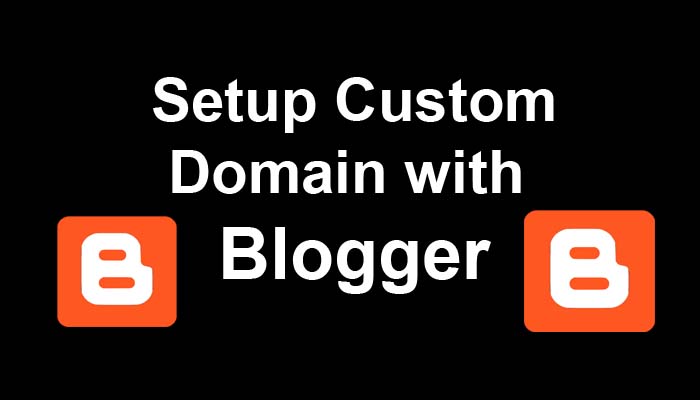 Setup Custom Domain with Blogger
Follow the steps to set up a custom domain with Blogger
Go to Blogger Dashboard

Login to blogger and go to the dashboard of your blog and click Settings.

Set up a third-party URL

Here you will see your blog address. Just beneath that it says Set up a third-party URL for your blog. Click on it.


Enter your custom domain

Here enter your custom domain URL you want to use with your blog. Enter your domain with www prefix e.g. www.yoursite.com and click save.

DNS Settings

You will see an error that reads "We have not been able to verify your authority to this domain". On your domain DNS, you need to make some changes.

Create new CNAME

Login to your domain registrar website where you registered your domain name. Click manage next to your domain name and go to advanced DNS settings. Here you need to create 2 CNAME's as shown in the picture. Change the values with your values you see in your blogger.

Create 4 A records

As your blog will be hosted at www.yoursite.com so to redirect your domain (example: yoursite.com) to www.yoursite.com, set up a naked redirect.​ With this redirect, if a visitor enters yoursite.com in browser he will be redirected to www.yoursite.com. You need to create 4 new A records as shown in the picture. You can use the same values. Delete the existing A records.

Now your DNS settings are completed

Go back to the blogger dashboard and repeat the Step3 and click save. Wait for some time as Domain propagation takes few minutes. Now you can access your blog at your custom domain.

Click on edit next to your Custom domain name

Check the box to Redirect yoursite.com to www.yoursite.com and click save.

HTTPS redirect

Select the HTTPS availability option to yes. Turning on HTTPS availability will allow visitors to view your blog over an encrypted connection by visiting https://www.yoursite.com.
Select the HTTPS redirect option to yes. If HTTPS Redirect is turned on:
Visitors to your blog will always go to https://www.yoursite.com.