Organizations spend a lot and take a great deal of effort to ensure that their employees are performing well at their jobs and receiving all help, the right software & tools, training needed to achieve the best possible results. They make sure that the employees are engaged and are devoted to the growth of the business which eventually increases business productivity.
Organizations invest a whole heap of money in employee training programs as they understand that is a far more effective, efficient, and convenient way to spend the money in training their loyal & talented employees, which also helps in client restoration, rather than recruiting new ones.
Due to globalization, cloud platforms have taken over the whole market including employee development and training programs.
With the help of an authoring tool like Adobe Captivate, you can create amazing eLearning-virtual reality, responsive courses, software simulations, interactive videos, multi-module branched courses. You can transform PPT into interactive content and use ready-to-go slides for template-based authoring. 
It is an authoring tool that helps you create and attend employee training digitally which is significantly more powerful as opposed to the traditional classroom-based training. It is a much better approach to training and development, as organizations can create in-house training programs and deliver them with the help of a learning management system.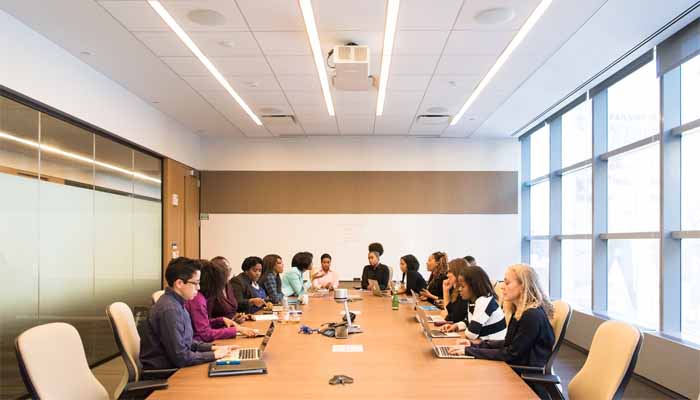 Even after its extensive demand & reputation, many companies have still not adopted authoring tools and learning management systems in their work culture. One of the reasons is that they are not aware of their excellent benefits. If you are part of an organization that has not yet jumped into the elearning bandwagon, the below facts will help you convince why you should invest in them: 
Makes The Training Process Simple
It is difficult to manage the training of a huge number of employees in different batches and who belong to different roles and positions. Arranging specific training for them and conducting them in batches is sometimes a hassle.
But with the help of an LMS, you can eradicate the need to arrange different training in different rooms and different batches. As the training is cloud-based and online, you can enroll as many employees as you want all at the same time. All you have to do is upload the training content on the LMS and ask your employees to attend at their convenience. This makes the process far simpler than classroom-based training.
Organizations spend a good deal of money on classroom-based training and hiring trainers. They spend on the trainer's salary, accommodation, commute & travel, food, hard copies of their materials, and other expenses.
But with cloud-based platforms, all these expenses are cut to almost half. You eliminate cutting down a lot of expenses and only spend on buying, setting up, and maintaining software on-site, and that is not a lot. And since the training is online, you end up saving a lot of paper. Such an environmentally friendly option, right!
As the eLearning courses are online, they can be accessed at any time from anywhere, unlike classroom-based training. It allows employees to learn on the go whenever they get some time like while commuting on the bus or train.
Employees do not have to compromise or adjust their schedule only to attend the training. With this and the correct training, employees become better at their jobs without having to worry about their personal commitments and generate more productive work results.
Easy Performance Tracking
With the great dashboards and intuitive UI, LMS also offers amazing tracking features. You can easily track each employee's learning goals and objectives and identify whether or not an employee has successfully achieved these goals.
With this, you can take the necessary action like helping the employees and discussing with them why the goals have not been achieved. Providing help to them quickly after the evaluation is important for both the employee and the organization.
Quick & Easy Feedback & Recognition
Training courses built using authoring tools and hosted on LMS can include astonishing interactive elements like quizzes and scenario-based activities that are very engaging for the employees and also provide immediate results and feedback. You can access & track this data easily on the LMS dashboard for every individual.
This data is used to arrange recognition and reward programs for the employee who performs outstandingly well. It brings motivation and confidence in the employees, and also an inspiration to other employees to also perform better at their work.
Win-Win For Both Employee & The Company
As explained above, how LMS can help employees boost their motivation, increase their confidence, help in advancing their skills and career growth, and raise their productivity. It makes their decision-making skills even better and brings out the leader from them.
These factors ultimately help the organization's increase in revenue, helps in retaining talented employees, becoming a strong competition in the industry, and preserving their clients. It is a win-win situation for both the employee and his/her associated organization, proving that having LMS-based training programs is an investment you make for your company.
CONCLUSION:
Research suggested that by 2020, eight out of every 10 organizations worldwide will adopt an LMS based in the cloud. And with the covid-19 pandemic hit, as the companies announced work from home, it is no surprise that the research came out to be true.
The above-mentioned points have been proven to be beneficial to every organization using LMS as their employee training and development programs for their existing employees and also to their new hires. It has proven out to be a great return of investment (ROI), growth, and success of the company that has fused LMS in their work culture.
If you want to drive your company to conquer and achieve huge heights of success you have to adapt the technologies and techniques that are currently in trend and winning the market. If you are reading this article, tell us in the comment section which LMS platforms you use in your company and how it benefits you and your organization.