What is the best free remote desktop connection software?
With huge growth, more and more people need to work remotely. Remote desktop connection software is a good solution to this need, allowing them to handle their work from a distance without having to sit in front of the computer. Today, there are many remote desktop software available in the market but what is the best free remote desktop connection software? This article will introduce you to the best free remote desktop connection software.
AnyViewer: The best free remote desktop connection software
AnyViewer is an all-in-one and free remote desktop connection software. It is not only highly secure, and flexible in connectivity, but also feature-rich, making it the best solution for remote desktops. AnyViewer requires no additional configuration such as port forwarding or VPN, and is not restricted to the same LAN. You can control any PC remotely anytime, anywhere, and from any location. Next, you will know why AnyViewer is worth your while.
Why AnyViewer is worth using
Why is AnyViewer recommended? It has many excellent benefits and features loved by a wide range of users. Next, you will see why AnyViewer is worth using:
Free. Unlike other software, AnyViewr offers users a free version. The free version already has enough features and functionality to satisfy the user's needs, which surpasses most of the software on the market.
Ultra-high compatibility. AnyViewer is compatible with a wide range of device systems, including Windows, iOS, and Android. This meets a wide range of user needs and provides a more flexible and convenient remote desktop connection.
Simple and intuitive interface. AnyViewer provides a very simple and clean interface to use, and users can easily operate the software and establish remote desktop connections without an unnecessarily complicated learning process.
Stable & high-speed connection. AnyViewer uses improved connection technology to automatically select the best server connection for a faster and smoother remote desktop connection experience. Users can connect quickly and seamlessly regardless of their environment and solve problems efficiently.
Higher security. AnyViewer prioritizes data security through end-to-end encryption using a strong 256-bit Elliptic Curve Cryptography (ECC) algorithm. Protect your private information during remote desktop connections so you can enjoy a secure and worry-free connection.
Comprehensive and outstanding features. AnyViewer not only supports remote desktop connection but also has other great features. It allows you to synchronize real-time remote sounds during remote desktop connections, perform unattended file transfer, multi-monitor support, and more.
These are just some of the benefits and features of AnyViewer, and there are many more benefits that will surprise you that have not been mentioned. You should believe, there is a reason why AnyViewer can outperform most of the software on the market, download it and start experiencing it, it will bring you unexpected surprises.
How to use AnyViewer
Now that you understand why AnyViewer is worth using, follow the steps to start your perfect experience:
Step 1. On both of your devices, download and install AnyViewer.
Step 2. After starting it, go to "Log in" and click "Sign up".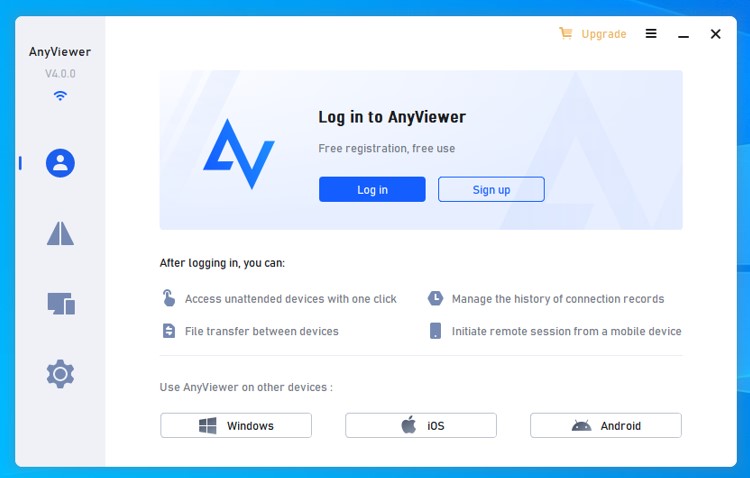 Step 2. Fill out the sign-up information to create an account. And log into the same account on both of your devices.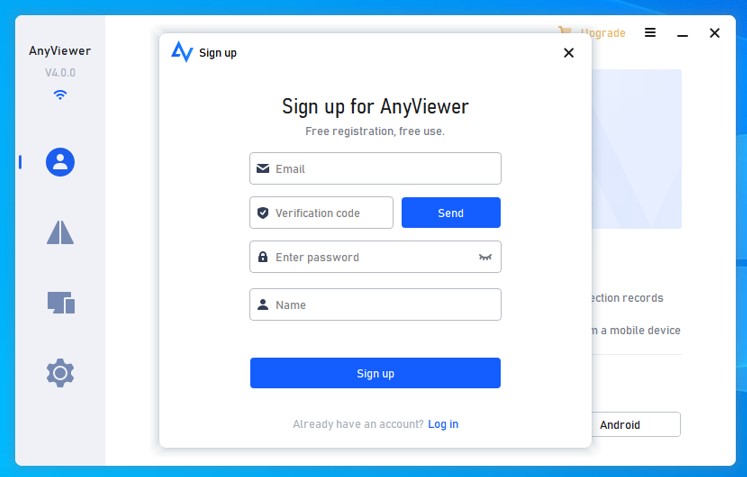 Step 3. After successfully logging in, your device will be automatically assigned to the same account you logged in under.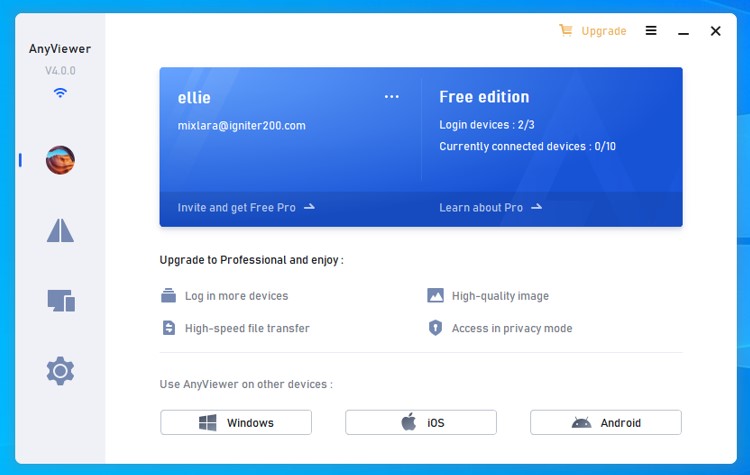 Step 4. Navigate to "Device" and choose the device you want to connect. Then click on it and select "One-click control" to initiate the unattended remote access.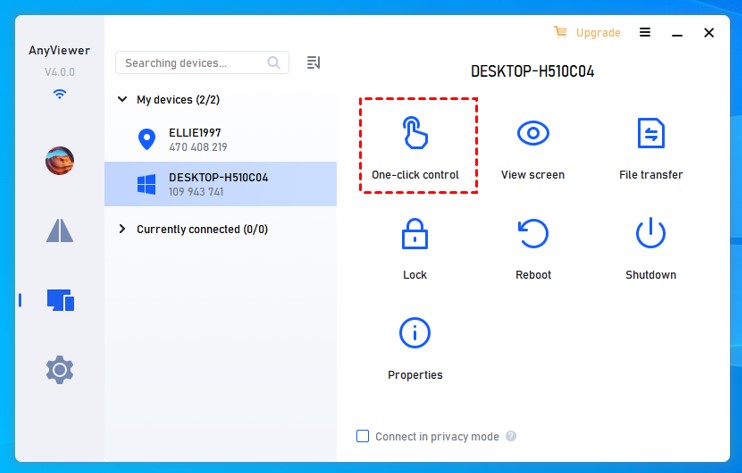 To enjoy more benefits, you can upgrade your account to a professional or enterprise plan:
Allows unattended access to up to 100 devices.
Allows up to 10 devices to be connected via one touch.
One device is allowed to connect to wireless other devices at the same time.
Gain the benefits of connecting in Privacy Mode.
Enjoy the unlimited number of file transfers( 1 TB per file).
Create groups to efficiently manage large numbers of devices.
Enjoy high-image quality.
…
Conclusion
If you need the best free remote desktop connection software, AnyViewer will be your best choice. It provides various versions to meet the different needs of users. Whether you are a regular user or an enterprise user, AnyViewer will provide you with a comprehensive and reliable solution. With AnyViewer you will get an efficient, smooth, and secure service experience.