Battlefield 1942 Game Download for Windows XP 7 8 10 11 PC. This game was developed by Digital illusion and published by EA Games in 2002.
In Battlefield 1942, you play a WWII soldier on a realistic battlefield with real-looking and real-sounding weapons who can easily get into and out of 35 different types of military vehicles or charge the beaches on foot. The depth is astounding. You take control of one of five specialized classes (attack, medic, scout, antitank, or engineer) while on foot, each with a unique set of tools and skills. A variety of tanks, jeeps, and other common motorized land vehicles are available, as well as more unusual vehicles like battleships, submarines, and dive bombers. The best part is that you can compete online against other people in four different Wartime theatres of war: North Africa, South Asia Pacific, Western Europe, and Eastern Europe. This is what World War II Online ought to have been like. This is Tribes 2 without the corny sci-fi gimmicks and with superior coding, graphics, control, and everything else. This game has all the best toys, making it the ultimate sandbox.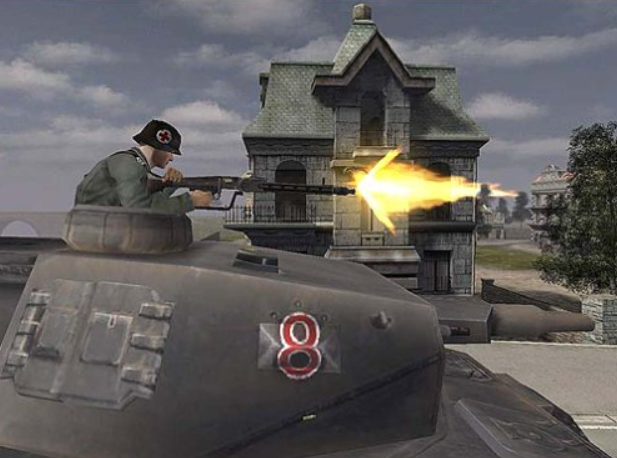 Features of Battlefield 1942
This game has a combination of exciting single-player missions and massive online play — up to 64 players can share a map
Use authentic recreations of World War II era weapons and pilot 35 accurately-designed vehicles
Fight the war on land, sea, and air during some of the most famous and pivotal battles of WWII
Enter combat as an American, British, German, Japanese, or Russian soldier
Wage war across Africa, Asia, and Europe as a medic, scout, engineer, or other specialized soldiers
Technical Specifications:
| | |
| --- | --- |
| Title | Battlefield 1942 Free Download |
| File Size | 2 GB |
| License | Free |
| Requirements | Windows 11 10 8 7 XP |
| Author | Electronic Arts |
Battlefield 1942 Game Download link:
This download includes:
Battlefield 1942 v1.61 (Base Game)
Battlefield 1942: The Road to Rome
Battlefield 1942: Secret Weapons of WWII
How to Install
Download and Extract Battlefield_1942_World_War_II_Anthology_Win_Setup_EN.7z
Open "Game Files" run "bf1942-setup.exe" and install the game.
Play the game using the desktop shortcut

Optional: Download Battlefield 1942 Widescreen Patch and install "bf1942widescreenpatch.exe" to play in higher resolution.